Plan A Perfect Christmas Trip To Italy
Last Updated On:

September 22, 2022
Plan A Perfect Christmas Trip To Italy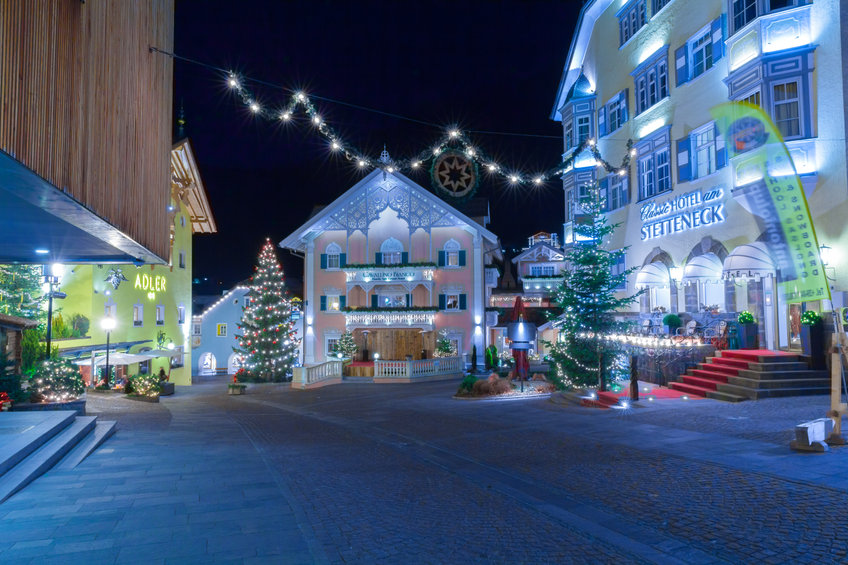 Are you planning to visit somewhere during Christmas with your family? A trip to Italy is the best decision you could ever make during Christmas.
Italy, the winter wonderland, celebrates Christmas like no other. From piazzas to churches, everything dazzles with lights, joy, and nativity scenes to cheer up the country for Christmas.
Visit Italy in December To Give a Perfect End To The Year
If you are the one who wishes to end the year with the best of the best experience, visiting Italy in December is right up your alley. The weather in December is the real charm of Italy at this time. Italy makes up the best Christmas atmosphere, from winter chills to cozy warmth.
The country looks absolutely splendid, especially when it snows. It snows in various parts of the country during December, majorly in mountainous regions in the north. Also, snowfall in Venice is rare but truly jaw-dropping winter scenery you will experience in your life during this time.
The southern part of the country remains quite warmer in December. Even the locals residing in those areas head to the mountains for skiing and snowboarding.
Beyond the snowy weather, breathtaking views, exciting Christmas celebrations, lesser crowd, and affordable rates make Italy a treat for tourists in December.
Best Places To Visit In Italy During Christmas
All the Italian destinations fascinate the tourists all year. But during Christmas, some destinations take on extra charm and create a unique atmosphere for tourists. The best places to visit during Christmas in Italy are:
Venice
During Christmas, 'The Floating City' of Italy, Venice offers an incredible experience. The city is beautifully decorated with colorful lights, joy, and snow.
You can feel the cheerful spirit of the season with gondolas, winding alleys and canals enlightened with lights, a Christmas market at Campo Santo Stefano, ice skating in San Polo, and midnight Christmas mass at Saint Mark's Basilica.
Rome
Italy's capital city, Rome, gives all the celebratory feels during Christmas. The spectacular nativity scenes, Christmas markets, midnight mass in St. Peter's Basilica, seasonal struffoli made of fried dough and honey, an ice rink, and the architecture draped in lighting make the place a pure charm during the Christmas season.
Florence
The Christmas spirit spreads across the entire city with the aroma of seasonal sweets. The bakeries get filled with Italian treats like yule log, sugar cookies, and pandoro.
You can witness the unique way of celebration in Florence through festive events, the life-size nativity scene at the Cathedral and city center, streets and architecture decorated with lights, sacred art, ice skating at the winter park, and vibrant market lanes in Santa Croce.
Milan
The city of Milan truly feels no less than a fantasyland during Christmas. Streets and buildings dress up with colorful lights, numerous boutiques are set up for shopping, windows of the shops are decorated with Christmas displays, and bakeries fill their shelves with the famous Italian dessert, panettone to welcome the season.
Do Not Miss The Famous Christmas Markets
Piazza Walther, Bolzano
Situated in the region of Alto Adige in Italy, Bolzano hosts Italy's biggest Christmas market at Piazza Walther. It attracts thousands of visitors every year. Small wooden huts are decorated with lights, lamps, candles, and festoons.
Get amazing Christmas presents like wooden sculptures, glass balls, and taste the ultimate local delicacies like hot mulled wine, hot apple juice at the market to warm yourself on a chilly night.
Piazza Santa Croce, Florence
Florence has been home to the German-inspired Christmas market at Piazza Santa Croce for the last 500 years. It features wooden chalets offering Christmas decoration items, Italian handicrafts, candles, ceramics, winter wear, and of course, tasty cheese, jam, mulled wine, and other holiday delicacies.
Piazza Navona, Rome
Situated along with the stunning fountain, the Piazza Navona converts into a colorful Christmas market. You find stalls filled with traditional Christmas gifts, chocolates, and sweets. Various artists and acrobats perform in the streets. The market has also got amusement rides for children.
Piazza Castello, Rome
O Bej, O Bej (How Beautiful, How Beautiful) Christmas market in Milan is the oldest and busiest market that runs for only 4-5 days. The wooden stalls are beautifully dressed with lights and garlands, spreading the festivity across the city. At the market, you get handmade Christmas gifts, antique souvenirs, winter clothing, toys, and delicacies like panettone – a traditional Italian dessert.
Unique Christmas Traditions In Italy
The Nativity Scenes
Creations displaying the Nativity of Jesus is one of the huge Christmas traditions in Italy.
Artisans craft the scene with the figurines of the baby Jesus, Mary, Joseph, the Ox, the Donkey, and some shepherds.
Hundreds of Nativity scenes can be seen across the city in Churches, at piazzas, and near famous landmarks. Via San Gregorio Armeno in Naples is the picturesque alley to witness the nativity scenes and varied figurines by world-class artisans.
Midnight Mass At The Vatican
Midnight mass with the Pope in the Vatican is another popular Christmas tradition. The mass is free to attend and is broadcasted through television in St. Peter's Square for those unable to get into the basilica.
The Christmas Tree
In Italy, you would find Christmas trees literally everywhere. People celebrate Christmas by decorating the Christmas trees at their homes and in public at famous landmarks or main piazzas in the cities. When you visit Italy during Christmas, make sure you witness the world's largest Christmas tree of Gubbio, situated on the mountain slope in Umbria.
Bagpipers in Piazzas
The sound of bagpipes is considered the celebration music of Christmas in Italy. In Italian cities, you are likely to find bagpipers dressed as shepherds to play the sound at the piazzas. It indicates the story when the shepherds first visited Jesus while playing bagpipes at the time of his birth.
Delicacies You Get During Christmas In Italy
No Christmas is complete without the Italian delicacies. When you visit Italy during Christmas, tantalize your taste buds with savory and sweet flavored Italian dishes.
Lasagna
Lasagna is a traditional dish of Naples consisting of layers of pasta filled with bolognese meat sauce, Parmigiano-Reggiano cheese, and béchamel. Make sure you taste this delicacy when visiting Italy during Christmas.
Cappone Ripieno
Stuffed cappon is a classic luxury Italian dish served in the north and center of Italy. The stuffing is of ground meat, beef, or pork mixed with bread, eggs, ham or sausage, and dried fruits.
Pasta in Broth
From north to south, pasta in broth is a Christmas dish of every Italian region. You would definitely love this hot and delicious dish as everyone does who visits Italy during Christmas. The dish comes in classic tortellini or spaghetti with chunks of juicy meat in the broth.
Pandoro & Panettone
These are authentic and popular Italian desserts you get during Christmas.
Pandoro is a traditional vanilla, star-shaped Italian bread with powdered sugar on top. And panettone is a sweet dome-shaped Milanese cake stuffed with raisins and candied fruits.
Start Planning Your Christmas Trip To Italy
What are you waiting for? Plan your Christmas trip to Italy right away and experience the rich taste of mulled wine, enticing sounds of bagpipes in the streets, artistic nativity scenes, midnight mass at the Vatican, and so much more.

At Benvenuto Limos, we offer a range of guided city tours to these amazing Italian destinations. Not just this, with us, you get to travel within the city comfortably and conveniently in our luxurious chauffeur-driven limousines, making your visit to Italy during Christmas a lifetime experience.