5 Unusual Traditions in the Home of Roman Empire-Italy
Last Updated On:

July 31, 2019
5 Unusual Traditions in the Home of Roman Empire-Italy
Italy is the homeland of the Roman empire and one of the major cultural centres of the world which have flourished over the years. Everything that denotes sensory pleasures, be it paintings, architecture, music,  or food present a unique Italian scenery in the hearts of the people. You might be feeling excited enough to travel to Italy but, wait! Do you know anything about the weird Italian traditions? If not, here are some of the weirdest traditions of Italy.
La Befana- Christmas Witch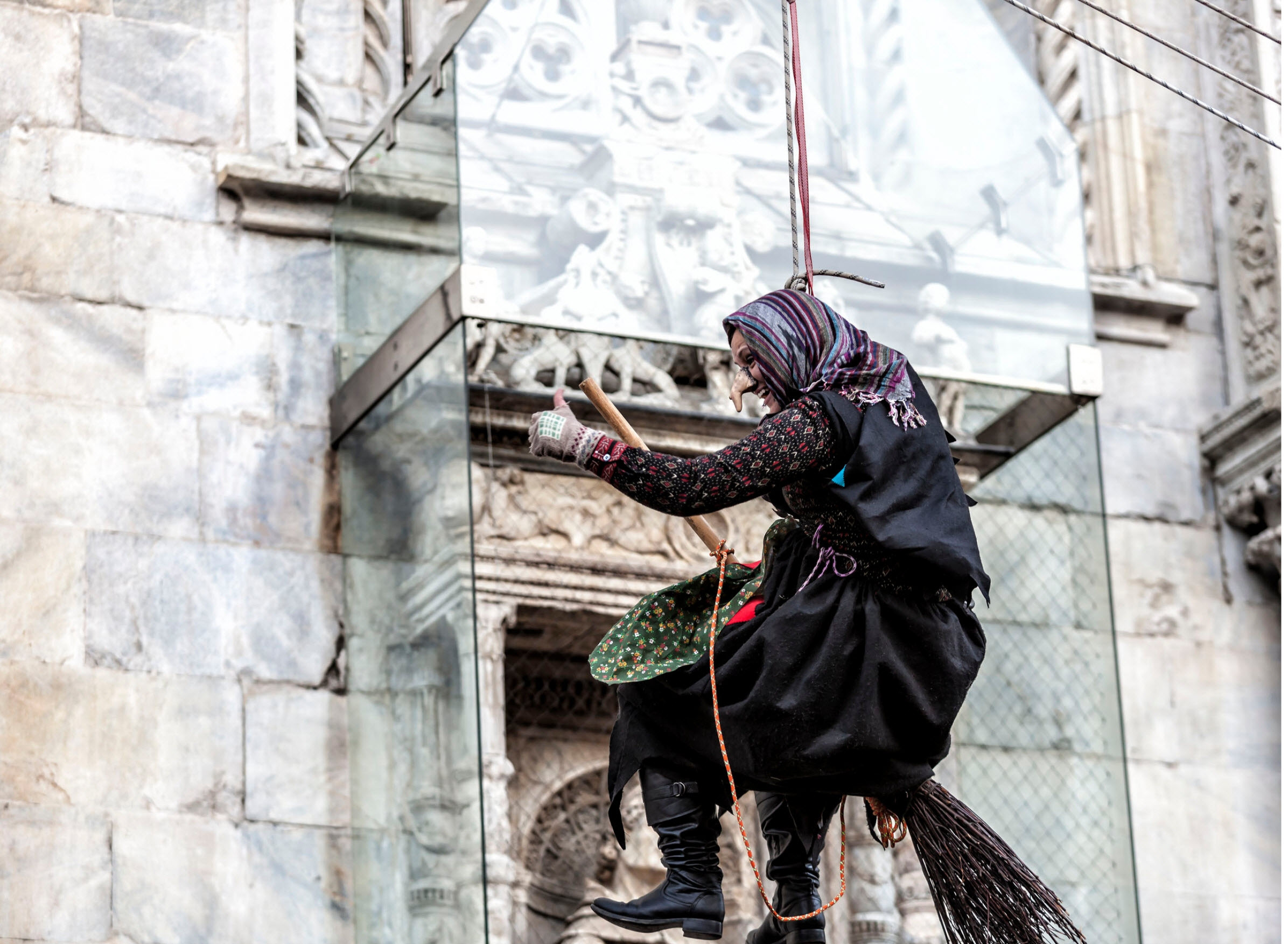 La Befana is the Italian folklore that began thousands of years ago which is now celebrated throughout the country and has become a national icon.  Do you remember Disney land witches wearing pointed hats flying on the broomstick under the moonlight? Imagine them with a Christmassy twist, yes! This is what Italy's Befana is.
Following the tradition of Santa Claus, La Befana comes on the night of January 5th that marks the Epiphany Eve. She fills the sock or a shoe put by good girls and boys with candies and presents. And, if you have been a bad girl or a boy, you would be left with a lump of coal or a stick.
Cinders and coals or sweets and gifts? What's in store for you?
Ballo Della Pupa- Dancing Doll with Fireworks
If the Christmas Witch doesn't leave you amused, you will surely enjoy the Dance of the Pupa. If you love fireworks, dance and music altogether, it is for you. The participants wear a fire-resistant mannequin of women and dance with tons of fireworks. They keep on dancing till the fireworks start exploding off their costumes.
Video Source: Mediaquattro via YouTube
The sight is amusing in a unique way, purely entertaining and great fun to watch. It's such an amazing experience that even words fall short to describe this illuminating art.
Il Volo dell'Angelo- The Angel Flight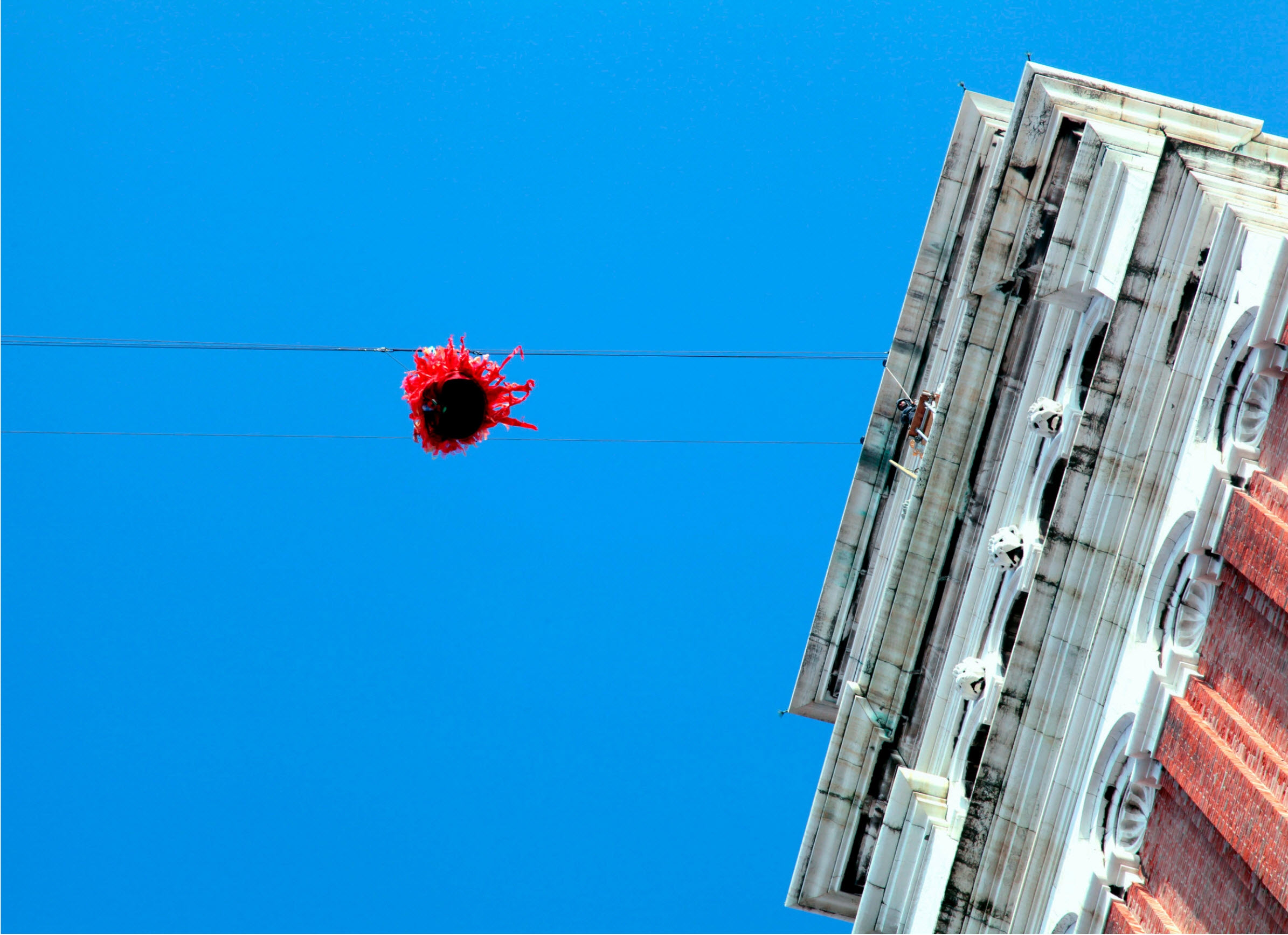 Fly over the rocky outcrops and experience the adrenaline rush as the exhilarating feeling gushes through your veins and hang your nervousness in harness. Imagine yourself soaring at 400 meters above the ground in between the twisty roads. This is what a heart-pounding adventure packed with fear, fun and we have in store for you.
Volo dell'Angelo or the flying angel is part of carnival festivities that starts every year from June to September. Every year a different woman is selected and dressed up in a beautiful, lavish costume.  She is called the 'angel' who flies down across the Piazza San Marco among thousands of onlookers.
Isn't it interesting?
Calcio Fiorentino- Brutal Sport on Earth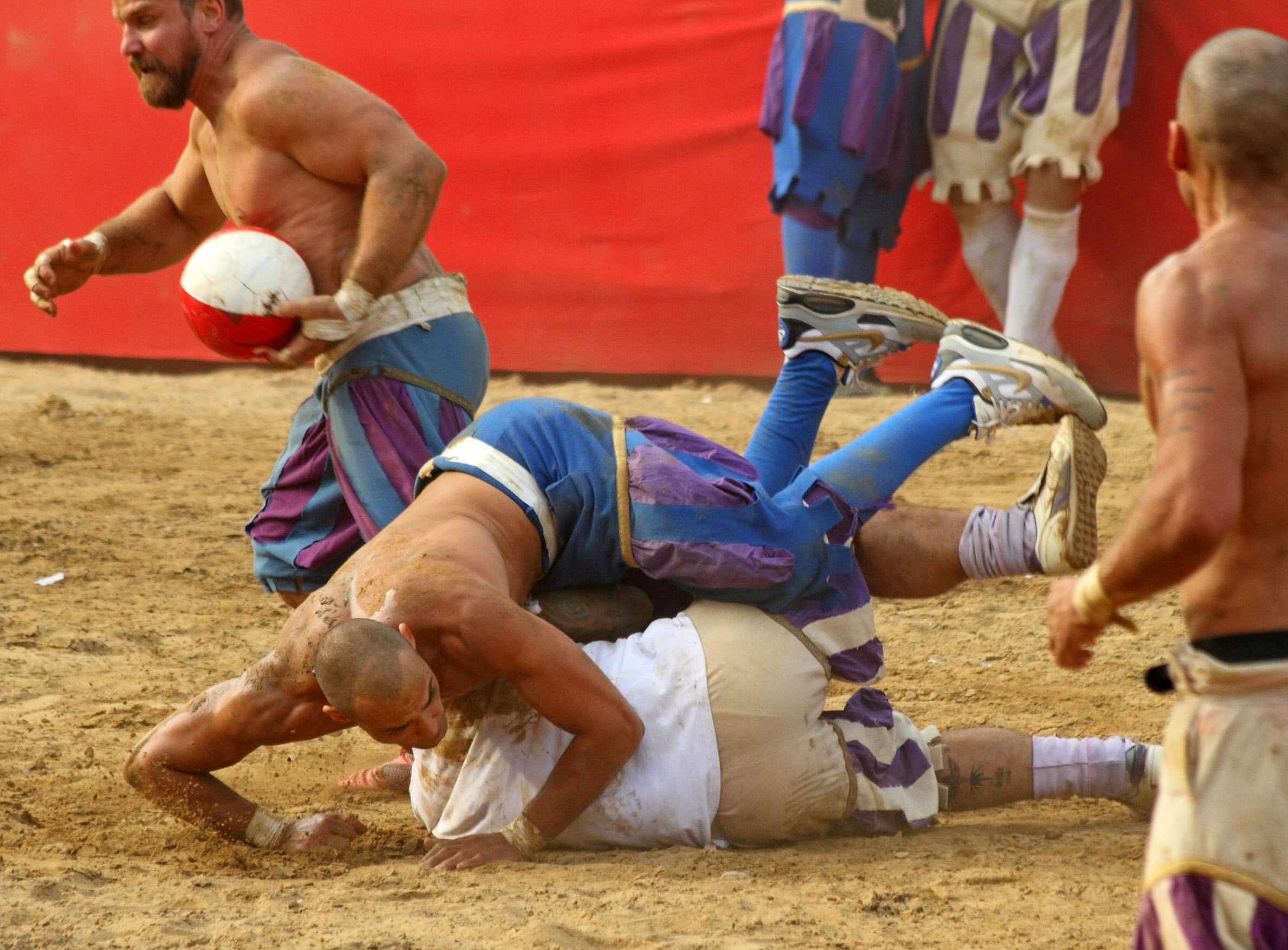 Football or Rugby? Whichever you like, Calcio Fiorentino is a mix of both, with a twist of martial art that originated back in the 16th Century in Italy. It is played in Piazza Santa Croce which is the area filled with sand in Santa Croce Church having 27 players on each side. The players fight to possess the ball in the game. The goals are done by throwing the ball on the narrow slit at each end.

It is definitely a violent game considering the rules that allow punches, kicks, head butts, and wrestling. This sport is a key element of the feast day celebrations for the patron saint St. John the Baptist in Florence.

If you are an exciting individual who loves adventure and wish to test yourself in the dangerous games, it is surely for you.

La coppa dell'amicizia- Have a Drink with Friends

From the Disney land witches to the injury-inducing sport, if still, you fall short of adventure, you may enjoy a respite with your friends after a tiring rundown. This is a unique after-dinner tradition that has originated from Valle d' Austa region of North Italy. It involves drinking coffee or alcohol from a terracotta cup called 'La Grolla' that comes with four or more drinking spouts for each friend. Remember which spout is yours! Well, there are numerous other drinks over coffee and alcohol that people prefer. And, some special recipes also made its way into the ancestral tradition passed on from generation to generation as a family legacy.

Video Source: Ernesto Riccio via YouTube

The friendship cup, 'La Grolla' is a novelty for the Italians. Moreover, the tradition is followed with utter zeal and enthusiasm that a famous saying which everybody obeys that states, "He who drinks Caffe Valdostana alone, will choke."

Make sure you don't do the lady dance 'ballo della pupa' after La coppa dell'amicizia.

Take-Home Notes

Every country has peculiar customs that reflect its distinctive ideology and cultures that are developed over time. Alike the art, architecture, music, and food, Italian traditions also reflect its rich and unique taste. If you are inspired enough to experience something truly unique and interesting, be sure you catch at least one of these strange traditions on your next trip to Italy.