Here's Why You Should Plan A Staycation In Florence
Last Updated On:

January 10, 2022
Here's Why You Should Plan A Staycation In Florence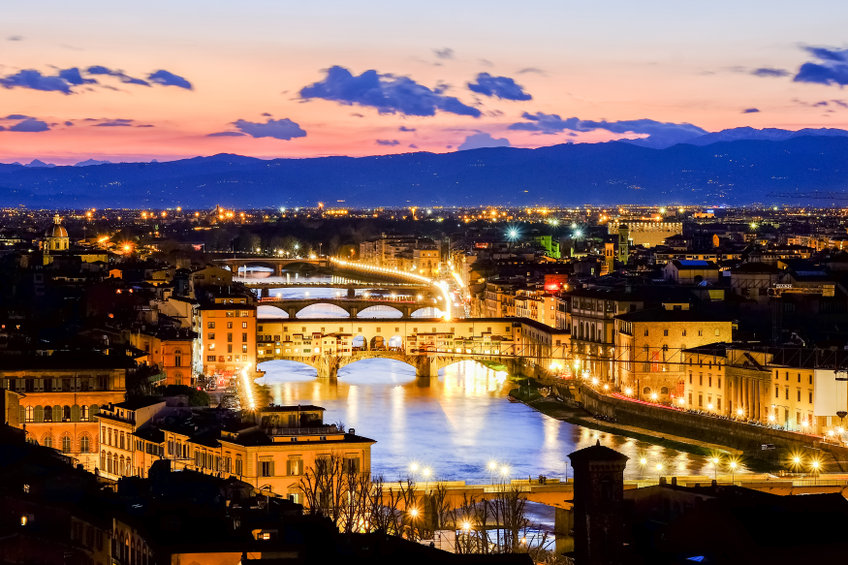 Florence or Florentina was founded in 59 BC by Emperor Julius Caesar as a colony of Roman soldiers. Later in the 5th, & 6th centuries, the city moved into the hands of several other communities. But, finally, in the 10th century, it flourished under the rule of Countess Matilda of Tuscany and became the leading Tuscan city.
It has taken centuries for the city to be what it is now! Today, the city is known to be one of the most visited cities in Italy. The city attracts almost ten million tourists every year!
This is not it. There's a lot more about the city. Plan a staycation with your family & friends to explore the city. Don't worry about what to do, where to stay, etc. Here's a guide for your staycation!
Top Tourist Attractions in Florence, Italy
Uffizi Gallery
Located in the heart of Florence, Uffizi gallery is a treasure trove of unique artworks by the world's greatest artists like Giotto, Raphael, Michelangelo, Leonardo Da Vinci, and Caravaggio.
Boboli Gardens
When in Florence, if you wish to visit somewhere other than inside the huge structures, head to Boboli Gardens. Right behind the Pitti Palace, it is an open-air museum spread over 111 acres of land that will surely surprise you with its showcasing of Florentine culture. It took almost four centuries to come to life. Imagine what it would be like to be there!
Ponte Vecchio
One of Florence's beautiful, renowned & historical tourist attractions is the Ponte Vecchio, also known as the 'old bridge' crossing the Arno River. Numerous jewelry stores, eateries, & restaurants are lined up on the bridge. You will also find a fence on the bridge, where lovers hang a padlock to eternalize their love.
Basilica Di San Lorenzo
Situated in the main market, Basilica Di San Lorenzo is the city's oldest cathedral. Its marvelous architecture attracts tourists from all over the world. Outside you get to see the rustic appearance and inside the splendid neoclassical architecture.
Delicacies You Must Try in Florence
Crostini
An appetizer assorted with bruschetta – thick, grilled slices of bread topped with different sauces, vegetables, cheeses, and meats. One of the most famous in Florence is the chicken liver paté. It is the chicken served on the bread slices.
Bistecca Alla Fiorentina
Bistecca Alla Fiorentina or Florentine Steak is truly heaven for meat lovers. It is approx 2 inches thick steak with a bone inside. No fancy marination is done to bring the flavor. It is directly fire-grilled and seasoned with salt, pepper, and lemon.
Trippa & Lampredotto
Lampredotto is a real delicacy that is found on every street of Florence. It is thinly sliced tripe boiled in broth served either in a sandwich or directly on the plate.
Gelato
Your trip to Florence would be incomplete without tasting the authentic Florentine dessert, Gelato! It is not like the traditional ice cream we eat. Gelato is much lighter, as it consists of more milk and less cream, which makes its flavor more rich & dense.
Schiacciata Fiorentina
Rectangular-shaped, soft, spongy cake covered with powdered sugar is a staple of Florentine desserts. Every bakery serves it throughout the year. You can easily identify it by the large fleur-de-lys design with cocoa powder on its top.
Things To Do in Florence, Italy
Eat & Hang Out in Santo Spirito
When visiting Florence, do not forget to put Santo Spirito on your checklist. This lively district is home to numerous shops and some pretty amazing bars & restaurants. The spot makes up a pretty cool spot to hang out, relax and have a meal or a drink.
Catch A View From Piazzale Michelangelo
In Piazzale Michelangelo, witness the world's best sunset and see the city lighting up in its spectacular beauty.
Dine At Mercato Centrale
Skip the fast-food spots in the city and head to the Mercato Centrale for dining. It offers a variety of tempting Italian dishes.
Spend a Day Or Even More At Cinque Terre
You can plan a day trip with your family & friends to Cinque Terre. Italy's enigmatic Cinque Terre houses five utterly charming & colorful towns along the coastline.
You can go hiking, explore secret coves in a boat, take a dip or enjoy the views at Manarola, visit seafood trattorias, and so much more. Don't worry, it's not that far, just about a 2.5-hour drive from Florence.
Stroll Through The Garden Of The Iris
If you plan to visit Florence during the spring season, then visit the Garden of the Iris. The garden is a magical place dedicated to Iris's wonderful aromatic flowers.
Best Hotels To Stay in Florence
St. Regis Florence
With a superb location in the 15th-century palace & along the banks of the Arno river, St. Regis is a luxurious five-star hotel in Florence. It boasts large suites and rooms, exclusive amenities, making it perfect for staying with your family.
Villa San Michele, Belmond Hotel
Housed in the charming 15th-century monastery, Villa San Michele is a luxurious hotel to spend your staycation in Florence. Each room exudes classical style & elegance. You get to enjoy fine dining at a Michelin-starred restaurant and view the city from magical gardens in the hotel.
Brunelleschi Hotel
Nestled between the Duomo and Palazzo Vecchio, Hotel Brunelleschi is located right in the city center. It is an exclusive boutique hotel with utterly charming & comfortable rooms and top-notch services.
Four Seasons Hotel Firenze
Luxurious hotel nestled in two Renaissance buildings, surrounded by 11 acres of garden, Four Seasons boasts a spa, pool, and lavish rooms that would steal your fancy.
Best Shopping Places To Visit in Florence
Angela Caputi
Angela Caputi's stunning jewelry store is a must-visit while shopping in Florence. Unlike a regular jewelry store, it houses some timeless and classic pieces inspired by the glamorous days of the 1940s & 1950s. Seeing the unique collection of artistic jewelry pieces made from resins and crystals would surely want you to have one for yourself or your loved ones.
Via de' Tornabuoni
If you are eyeing out designer labels, visit Via de' Tornabuoni. It is an amazing shopping district in the heart of Florence that boasts some of the high-class fashion houses, Gucci, Prada, Burberry, to name a few that would steal all your savings in a blink.
The Mall
Set in the heart of the Tuscan countryside and just a 30-minute drive from Florence, The Mall is a high-end shopping spot for fashionistas. You would not need to travel anywhere else, as you can get everything under one roof at the best prices.
Aquaflor
Are fragrances your top fancies? Aquaflor is amongst the best places to get some. It is the only outlet of a master perfumer, Sileno Cheloni.
The collection comprises colognes, perfumes, room fragrances, scented candles, and body care products. You can even take the workshop to get insights into the art of perfumery.
Plan A Staycation To Florence With Us…
When in Florence, of course, you would not want to waste your time waiting in a queue for a bus, train, or cab to get from one place to another. Even we don't want that to happen!

At Benvenuto Limos, we make your staycation in Florence easy and worth living with our top-notch transfer services.

Whether you want to travel from a hotel to a tourist destination or anywhere around Florence, we ensure to make it seamless, comfortable & convenient in our luxury chauffeur-driven limousines. We make you explore the city like no other!