Get Prepared for Your Next Trip to Sorrento
Last Updated On:

September 22, 2022
Get Prepared for Your Next Trip to Sorrento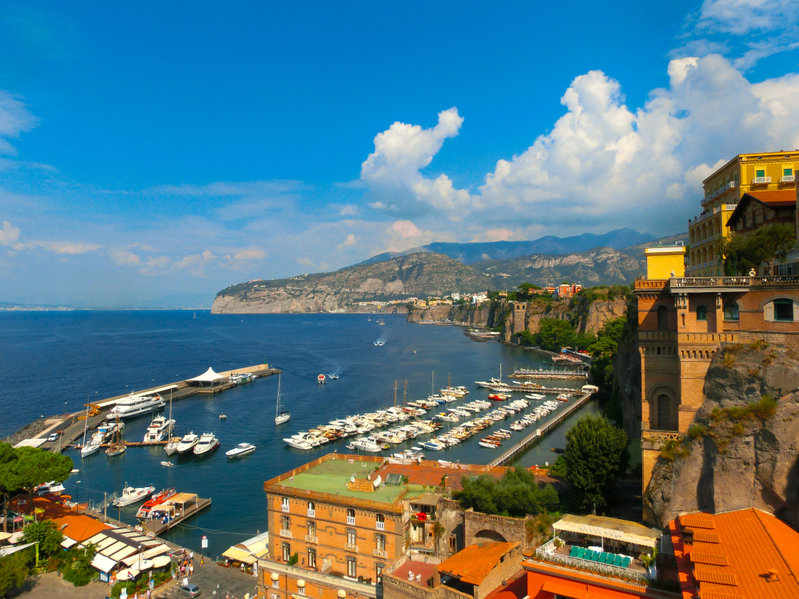 Situated over the cliff, overlooking the Bay of Naples in Southern Italy, the Sorrento coast would surely stun you with its beautiful beaches, charming & Pinterest-worthy views from the cliffs, historic sites, and flavorful cuisine. But, often it is overlooked by many travelers, don't know why! If you are planning your trip to Italy, plan to visit Sorrento!
What Is The Best Time To Visit Sorrento?
Known for the vast valleys, towering mountains, and magical beaches, Sorrento is a region with a beautiful climate.
The city basks in warmth and sunshine throughout the year, which makes it a favorite tourist destination to travel to. But if you want to see Sorrento in its best form, visit during the summer months, which is between mid-June and September. Not just the gentle weather but many other factors make summertime the peak time to visit Sorrento.
Nothing feels more refreshing than taking a dip in the water and drinking some sweet Italian liqueur on a hot summer day. Sorrento boasts some amazing beaches, and of course, it is the home to the world-famous Limoncello that is truly a cherry on the top to make your trip in summer amazing.
Sorrento is a treasure trove of cultural masterpieces. You can enjoy everything from the famous Cathedral Duomo to Museum Correale in the daylight and keep the rain at bay during this time as the sun stays up for long in July. You can even expect some mind-blowing celebrations filled with fireworks, music, and dance during this time of the year in Sorrento.
Apart from this, the accommodation cost also makes Sorrento come on the bucket list of tourists worldwide during the summer season.
Awesome Things To Do In Sorrento You Can't Miss
Take A Cooking Class
Do you love cooking? If yes, we highly recommend you to take a cooking class in Sorrento and take some Italian taste back home. Even if you are not into cooking and are a beginner, take one. It's a lifetime experience you cannot afford to miss.
You can take cooking lessons from a professional chef or home cook to learn everything from the traditional Neapolitan pizza to the four-course Italian meal.
Shop in The Old Town
Sorrento is truly a shoppers' paradise. Head towards the heart of the old town and main shopping street of Sorrento – Via San Cesareo. You can shop for beautiful leather crafts, artisan-made ceramics, handmade sandals, wood inlays, household, and linen items.
Not just this, you may also find restaurants, wine bars, vegetable stands, and limoncello makers on the street.
Enjoy the Sorrentino Food
Do not miss tasting and relishing some of the amazing Italian cuisines in Sorrento. Visit Marina Grande to taste the local seafood and Terrazza Bosquet for fine dining.
When in Sorrento, how can you not have an Italian pizza & world-famous gelato? Fulfill your pizza craving by visiting Da Franco or La Lanterna and Gelateria David or Raki for gelato.
Where To Stay In Sorrento?
Airbnb
If you want a personalized, homier, budget-friendly stay in Sorrento, book an Airbnb depending on your budget, number of people, amenities, and duration.
Hotels
Grand Hotel Excelsior Vittoria
If you want a luxurious stay in Sorrento, look no further than the Grand Hotel Excelsior Vittoria. Located on the cliff, it is a five-star hotel with an elegant interior and top-class amenities. You can pamper yourself at the spa, fine-dine at the Michelin-starred restaurant, or relax in the garden or swimming pool with the amazing view of the Bay of Naples.
Hotel Antiche Mura
Located right in the city's heart, just off the Piazza Tasso, Hotel Antiche Mura is a four-star hotel with comfortable rooms & suites. It also consists of a pool area with a shade of orange and lemon trees and a garden adorned with old stone walls and vines.
Staying in the town center is the best thing you could do. You get easy access to shopping centers, restaurants, and the beach in just 6-minutes via walking.
Hotel Nice
Staying in Sorrento can cost you fortunes. Well, we can help you save some without compromising your comfort, quality, and view. Located just 300 meters far, Hotel Nice is a budget-friendly option for you. Shops, restaurants, beach, train & bus station, everything is just a short walk away from the hotel.
When In Sorrento, What To See?
Piazza Tasso
We are starting the guide to what to see in Sorrento with the city's heart, Piazza Tasso. Have breakfast, fine-dine, sip a cup of coffee, admire the Baroque architecture or just visit this lively square of Sorrento for people-watching, but do visit.
The square also boasts several world-famous statues, one of which is of Torquato Tasso, a Renaissance poet, after whom the square is named.
The Ancient Walls Of Sorrento
If you are into history and archeology, you cannot miss visiting the Ancient Walls in Sorrento. These walls were built back in the mid-sixteenth century to defend the city from the attack and invasion of Saracens.
Marina di Puolo
Marina di Puolo is one of the lesser-known gems but an enchanting beach on the Sorrentine Peninsula. You can reach the beach via scooter, car, or even take a walk. After having fun at the beach, stop by a restaurant in a seaside village to give a perfect end to your day.
Museum Correale di Terranova
Housed in a splendid eighteenth-century villa, Museum Correale di Terranova is 'the most beautiful provincial museum of Italy', which is worth a visit.
It houses a magnificent collection of arts & crafts, furniture, and paintings dating back to the period between the fifteenth and nineteenth centuries. Once in there, do not return back without taking a walk to the amazing garden of the villa.
How To Move Around Sorrento in Italy?
You can easily explore Sorrento in Italy on foot. But if you don't prefer that, there are numerous other ways to travel around this lively city like:
Taxi
Traveling in a taxi is a convenient option but is slightly on the expensive side. You will find the taxi stand at the Piazza Tasso, and the other one near the train station of Sorrento.
Bus & Train
Sita Buses & Circumvesuviana Trains are a popular way of transportation to get around the city and from one city to another.
Via Car Or Scooter
We would also suggest you rent a car or scooter and drive to explore the city. You can easily reach the beautiful places and beaches you wish to visit. However, while driving independently, routes to destinations could be a major obstacle.
Plan Your Sorrento Tour With Us..
Are you confused about where to start, what to include in your itinerary, and how to travel? Don't worry. We are here to help you with everything you are worried about.

You need not do much. Just book one of our designed Sorrento city tour packages. Every tour package includes amazing tourist attractions that would want you to take another of our Sorrento tours. And when it comes to traveling, at Benvenuto Limos, we ensure to make your trip the best. Wondering how? You get to travel around Sorrento most magnificently in our luxurious chauffeur-driven limousines!