Discovering Mesmerizing Italy's Coastlines: From Cinque Terre to Amalfi Coast
Last Updated On:

September 15, 2023
Discovering Mesmerizing Italy's Coastlines: From Cinque Terre to Amalfi Coast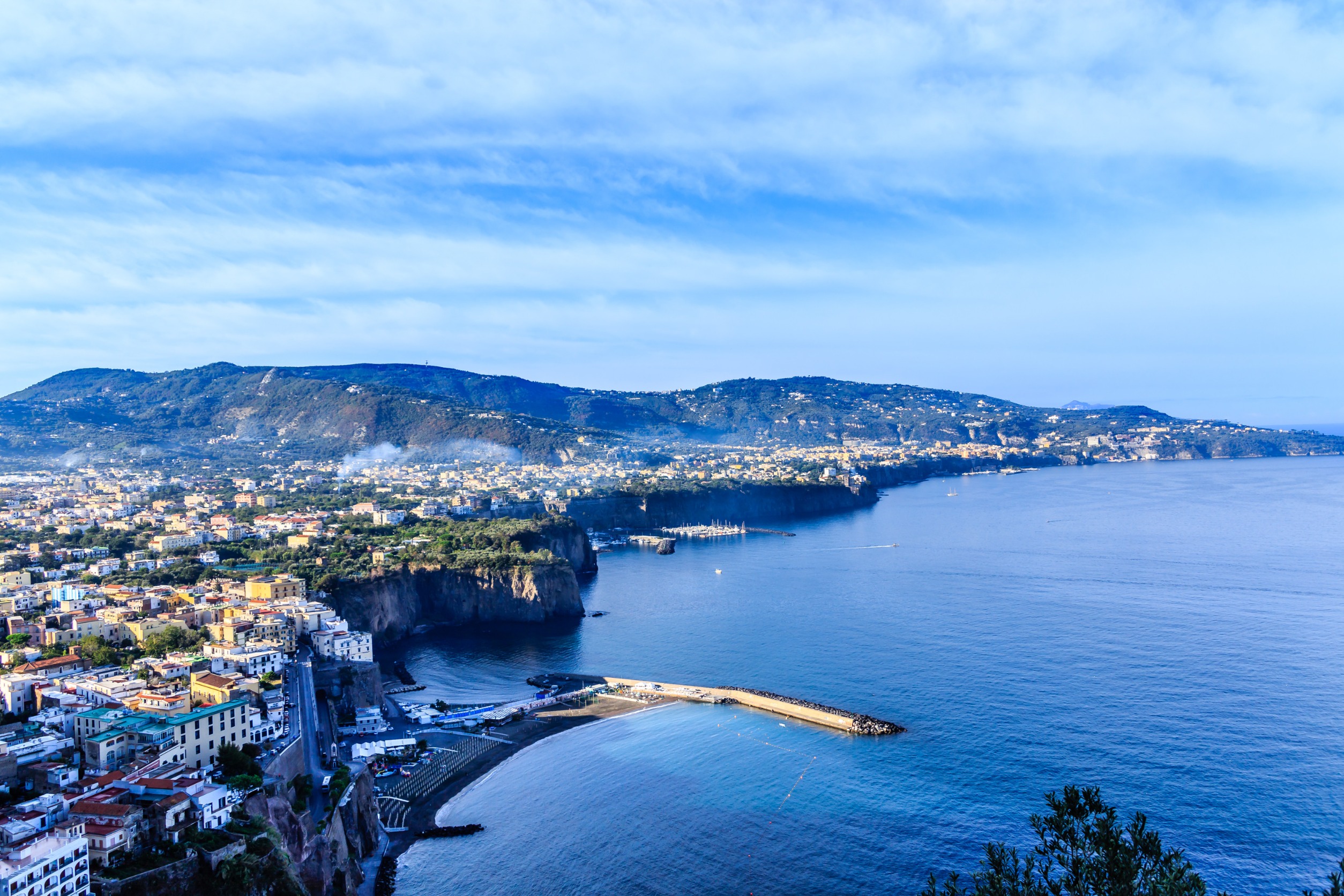 Every coastline is breathtaking, but today let us tell you about the ones in Italy that will make your heart soar and won't stop you from packing your bags! These are must-visit destinations that are true examples of natural beauty. Let's explore the stunning shores!
Cinque Terre
The Best Cinque Terre Town is a scenic beauty that is a series of five coastal villages located in the Liguria region of Northwest Italy. This includes Monterosso al Mare, Vernazza, Corniglia, Manarola, and Riomaggiore villages. The five villages, coastlines, and the surrounding hills comprise most of the Cinque Terre National Park, that adds more to the beauty of the National park, renowned by tourists. 
Cinque Terre And Its Emergence! 
It has a vast history of settlement and growth and has been colonized since the 11th century. Over the centuries, the fishing, wine, and olive oil industries have yielded high and kept the area prosperous. The 18th century saw the Republic of Genoa fortify the villages with walls, turrets, and watchtowers to protect them from marauding pirates. In the 19th century, railway lines were constructed, and they connected Cinque Terre to the rest of Italy and allowed for easier access. In the 20th century, the villages became popular tourist destinations and are now UNESCO World Heritage Sites. Today, Cinque Terre is admired for its picturesque views, culture, and history, and it is one of Italy's most visited regions.
The Beautiful And Best  Cinque Terre Town
Monterosso al Mare
It is the largest of the five villages in the Cinque Terre region of Italy. It is known for its historic old town and sandy beaches. 
Vernazza 
It has beautiful views from its harbor and various restaurants and shops where you can sample the local cuisine. 
Corniglia
It is the only village not located directly on the coast but perched on a hilltop, adding more to the beauty!
Manarola
It's a charming fishing village with colorful houses and a lively waterfront. It is one of the must-visits in Cinque Terre. 
Riomaggiore 
It is the southernmost of the five villages. It offers a chance to explore the Mediterranean Sea while admiring the colorful buildings.
A Lifetime Experience Of Exploring Cinque Terre
Exploring Cinque Terre on the Italy coastlines can be a mesmerizing experience as it is lined with colorful houses, picturesque beaches, and cliffside hiking trails, making it one of the most beautiful and unique regions in the Mediterranean. Cinque Terre is the perfect place to explore and relax, from the beautiful villages of Manarola and Riomaggiore to the gorgeous views of the harbor in Monterosso. Cinque Terre is an ideal destination if you're looking for a stunning location to enjoy the Mediterranean sun, crystal clear waters, and delicious local cuisine.
5 Must-Try Local Dishes And Cuisines In Cinque Terre
Pesto
A traditional Genovese basil-based pesto sauce originated in Cinque Terre.
Salsa di limone
A lemon sauce made with local lemons is used to dress seafood dishes. 
Farinata
A traditional Genovese chickpea-based flatbread.
Sciacchetrà
A local dessert wine made from dried white grapes.  
Limoncino di Levanto
A traditional liqueur made with local lemons.
Amalfi Coast
The Best Amalfi Coast Towns comprise beautiful Amalfi, Positano, Ravello, Praiano, Maiori, Minori, Furore, and others. It is a stretch of coastline in southern Italy, located in the region of Campania. It is known for its dramatic cliffs, pastel-colored villages, and surreal views of the Tyrrhenian Sea and the Mediterranean. You must visit the Amalfi Coast and witness the beauty of stunning beaches and cliffside hiking trails that will pump you with all the goodness of adventure. The Amalfi Coast has been designated a UNESCO World Heritage Site, with attractions such as Pompeii, the Amalfi Cathedral, and the island of Capri.
Explore Back In Time To The Amalfi Coast!
The Amalfi Coast's history dates back to the Neolithic period. The region has seen its share of changes, from the Normans bringing art and architecture to the Kingdom of Naples bringing wealth and prosperity. The Amalfi Coast is a well-known tourist destination due to its stunning scenery, beaches, and culture. Visit the Amalfi Coast to enjoy and experience the calmness and love.
The Best Amalfi Coast Towns
Positano
It is a small town you can visit on Italy's Amalfi Coast. It is praised for colorful buildings, winding streets, and stunning views of the Mediterranean Sea.
Amalfi
This is a popular tourist destination due to its charming streets, breathtaking views, and numerous attractions such as the Duomo di Amalfi and others.
Ravello
It is well-known for its amazing views of the Mediterranean Sea and numerous attractions, and the Villa Rufolo, a 12th-century villa is one of them. 
Sorrento
It is amongst the best Amalfi Coast places to visit, offering the mesmerizing and calming views of the Bay of Naples, and its numerous attractions, such as the Piazza Tasso, a city square, the Villa of San Michele, and other heritage villas. 
Comparing Cinque Terre And Amalfi Coast
Travel from Cinque Terre to Amalfi Coast can be a mind-blogging experience. There are many stary-similarities and day-differences. Some of them are below:
Similarities:
Both of these iconic places are located in Italy
UNESCO has designated them as World Heritage Sites as they preserve the rich history and cultural heritage.
You can discover Cinque Terre and Amalfi Coast to flatter your taste buds.
Both have hiking trails that offer panoramic views of the coastline and surrounding landscape.
Differences:
Cinque Terre is a collection of five small villages situated close together, but the towns along the Amalfi Coast are spread out along a long stretch of coastline.
It is easy for beginners to make hiking trails at Cinque Terre and tough at Amalfi Coast. 
Their own uniqueness makes them more special, as Cinque Terre is known for its colorful houses and vineyards built into the terraced cliffs. At the same time, Amalfi Coast is famous for its beautiful beaches, lush vegetation, and historic buildings.
Timings And Other Things That You Must Not Skip!
The best time to visit Cinque Terre is the spring (April-June) or autumn (September-November). Because the weather is mild and the crowds are smaller. And the best time to visit the Amalfi Coast is from mid-April to mid-June and mid-September to mid-October. 
Transportation options and accessibility in Cinque Terre and Amalfi Coast are not great due to their mountainous terrain and winding roads. You must hire a tour guide for hassle-free exploration. Also, public transport is limited, and few roads connect the two areas, making it difficult to get from one place to another. The guide will make planning your trip easy and discover the hidden gems of magical Italy's coastlines.
Tips for Exploring Italy's Beautiful Coastlines
When planning a coastal vacation to Italy, choose to pack light and go for breathable clothing, sunscreen is a must-have, as a swimsuit if you are a water person and comfortable walking shoes.
It is always better to opt for budget-friendly city tours or chauffeur services for enjoying a relaxed tour. They will also help you save more from your pocket, suggesting you try local dishes, taking you for free activities, and others. 
The Dreamy Destination That You Shouldn't Miss!
Plan your visit and explore the Grand Amalfi Coast and the Ultimate Cinque Terre. These beauties are a perfect addition to your bucket list if you want to witness the authenticity of nature, flavourful cuisine, mesmerizing views, and real heritage beauty. So, when are you packing your bags and witnessing the most dreamy destinations of the year?