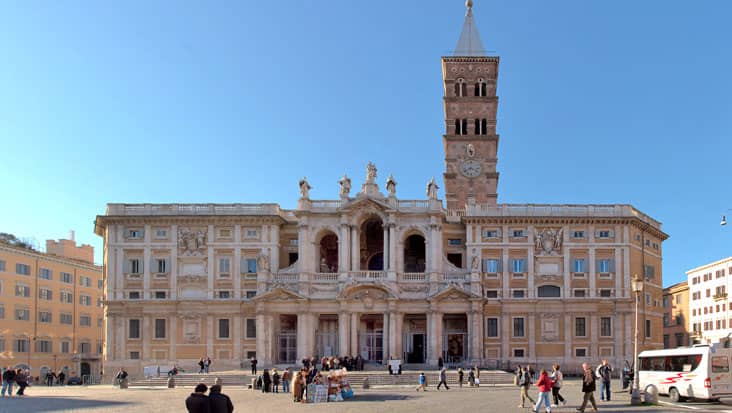 Duration 4 Hrs (Half Day)

Available Everyday of the year

FROM

280
Check out Impressive Sculptures & Paintings related to Religious Believes Located in the Area throughout Rome to Christian Rome Tour in Classic Vehicles.
Rome is popular for its cultural & historical greatness. It is the capital city of Italy which is full of architectural marvels from the ancient Roman Era. Rome is also known to possess some important Christian monuments which are valued by archaeologists & tourists. You need to give time for exploring these landmarks that are spread out in different parts of the city. Benvenuto offers Rome to Christian Rome Tour which will help you learn about various cathedrals & art works related to Christianity. Our chauffeured limousines are fully equipped with useful facilities for making this travel comfortable for the tourists. This ride will be completed in four hours and can be accessed on all days of the week.
The trip will start with a visit to the greatest Basilica that is dedicated to Virgin Mary. You will be later toured to Basilica of St. Mary Major which was built in 352 BC. This landmark is popular for its attractive paintings. The best part about this trip is the area close to Appian Way. Tourists would get a chance to explore temples, villas and funeral monuments that are high on architecture. Church of Domine Quo Vadis and the ancient cemeteries located close to Catacombs of St. Callixtus are listed among the top highlights during this tour. The chauffeur hired from our service is capable of covering every major landmark without any hassle. You would be served with substantial details related to monuments & other tourist spots through the knowledgeable driver. There is an entrance fee for visiting certain destinations. The tourists have to pay this cost separately.
You will surely admire the wonderful mosaics that are present in different Christian basilicas. For traveling you can access our superb range of Mercedes sedans. We possess E-Class and S-Class vehicles that consist mind blowing facilities. Apart from this, we also offer Mercedes V-Class and VW Caravelle minivans that are very impressive in terms of appearance and space. Each of these rides is armed with an efficient GPS system. The tour cost differs based on the vehicle you choose. Minibuses can also be accessed if the number of tourists is quite large. It is advised that you must wear comfortable shoes since the tour requires significant walking to various sites.
Read more
Highlights
Basilica of St. Mary Major

Appian Way

Catacombs of St. Callixtus
Cost
1-2 Passengers (Sedan) 280
3-4 Passengers (Sedan/Minivan) 320
5-6 Passengers (Minivan) 350
7-8 Passengers (Minivan) 375
9-10 Passengers (Minibus) 450
* Extra pax charged at 40 Euro per person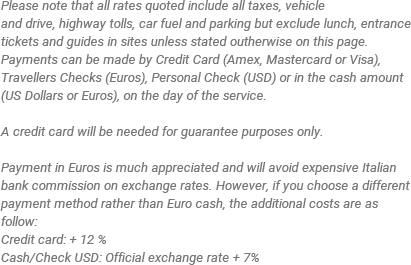 Notes
Comfortable walking shoes are suggested for this tour. Entrance fees: Catacombs of St. Callixtus - 5 Euro Catacombs of St. Sebastian - 5 Euro Tomb of Cecilia Metella - 2 Euro Circus of Maxentius - 2.60 Euro Catacombs of St. Domitilla - 5 Euro Open from 8:30 AM - 12:00 PM and 2:30PM to 5:30PM. The catacombs of St. Sebastian are closed on Sundays.

Minibus/Bus City Taxes
Rome : 9 - 14 pax 200
Rome : 15 - 50 pax 300