Duration 8 Hrs (Full Day)

Available Everyday of the year

FROM

475
Italy boosts a wealth of beautiful countryside and the area surrounding Rome called Castelli Romani is no exception.The Castelli Romani , a collection of hill top towns south of Rome, have always been synonymous with great food and simplicity. In the old days the Romans came here on the weekend, bought food on the road and went to eat in taverns.The restaurants served only wine . The service was rather spartan, but it was very fun. Our tour will include several villages and stops.
Your driver will pick you up at your hotel and you will set out on a relaxing drive across rolling hills and lush farmlands, dotted with beautiful villas and palaces.
Head south along the legendary Appian way, one of the earliest and strategically most important Roman roads of the ancient republic. See the Baths of Caracalla and the Chapel of Domine Quo Vadis along the way. Drive by the catacombs, a curious underground maze of tunnels hollowed out of volcanic rock, where the earlier Christians, persecuted by the Romans, would bury their dead, the baths of Caracalla.
Your first stop will be at Piazza di Corte of Ariccia designed by Bernini.You may choose to taste the famous local products including Porchetta or linger around the old town.
We will then proceed south and drive through Genzano, famous for its bread ,that has obtained a truly unique quality and for the famous "INFIORATA Festival". During this event , 3 streets of Genzano are decorated with flowers arranged in mosaics , the tradition goes back to the religious celebration of Corpus Domini. Because of the width and slope of the uphill road which hosts the floral carpet , Genzano is renowned for its beauty and scenography.
Then going around the lake we will arrive in Nemi. It the best preserved town of the Castelli Romani, who got the orange flag of the Italian Touring Club as "inland Excellence". Nemi is absolutely enjoyed walking and immersing oneself in its country atmosphere.Here you will have a chance to tast the "Fragolino" typical liquor made from wild straberries that have made the village famous. The wild straberries are used to make every kind of delicacy.
Going around the Albano Vulcanic lake we will arrive in the scenic town of Castelgandolfo . This is where the pope historically retreats in the summer to escape the heat of Rome. The placid town is packed with historic sites, including the Church of St. Thomas of Villanova, designed by Baroque master, Gian Lorenzo Bernini.Take a short stroll in this lovely medieval town shoot some photos to the beautiful view and the papal palace and we will head to the next stop. We will drive through th Albanian hills and arrive in Frascati dominated by the spectacular Villa Aldobrandini, and across the walk with the look that embraces the whole city of Rome. Frascati is well known for its wine production .Wander around the village on your own.You may upgrade your tour with a local wine tasting and light snacks. ( 20 euro per person )
Read more
Highlights
- Castelgandolfo and the papal summer residence
- Nemi lake and taste local straberry liquor
- Frascati view of Rome
Cost
1-2 (Sedan) 475
3-4 (Sedan/Minivan) 525
5-6 (Minivan) 550
7-8 (Minivan) 600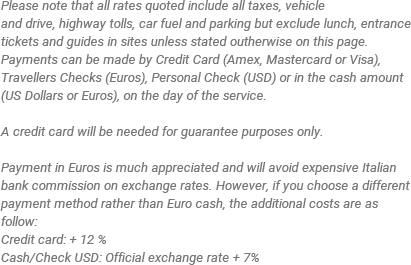 Notes

Minibus/Bus City Taxes
Rome : 9 - 14 pax 200
Rome : 15 - 50 pax 300

Entrance Fees and Times
Wine tasting fees (NOT INCLUDED) - 20 euros pp