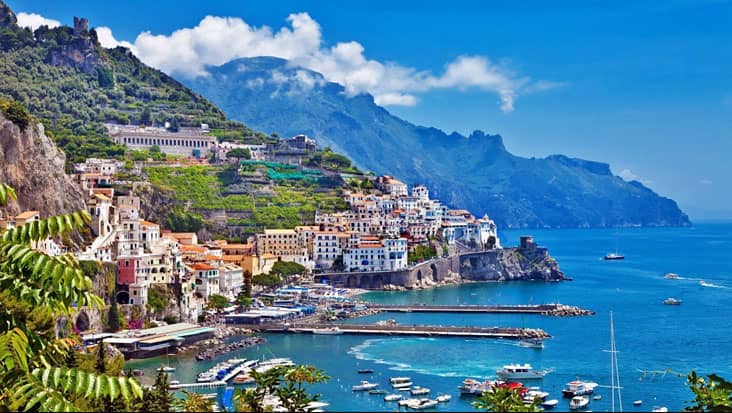 Duration 8 Hrs (Full Day)

Available Everyday of the year

FROM

450
Magical Travel in Chauffeur-Driven Rides from Amalfi Coast to Amalfi and Paestum Tour Covering the Serene Coastal Stretch & Historical Excavations in South Italy.
Amalfi Coast is one of the top most tourist locations in southern Italy. The coastal lifestyle of this region must be experienced so as to understand the true beauty of this land. The best way is to access a road journey to explore the coastal stretch from Amalfi Coast to nearby areas. The Amalfi Coast to Amalfi and Paestum Tour is a unique ride which can be covered by travelers in luxury sedans. Our service is quite efficient in offering supreme comfort to the travelers. The ancient town of Paestum as well as the exotic waterfront view of Amalfi would fill your heart with excitement. This tour package is available for all days of the year and can be hired without any hassle.
The Amalfi Coast to Paestum and Amalfi Tour should be covered during the day time. It will allow you to cover all the major sites without any delay. Paestum is an ancient Roman city that is known for its ancient archaeological sites. The famous Greek temples present in this area must be checked out with a peaceful mind. Moreover, you can also learn about Greek art & antiquities that are carefully preserved in Paestum. Amalfi is a soothing region that offers a watery backdrop. The exotic cafes and restaurants present in the vicinity will help you relax. A private guide can be hired so as to gain important knowledge about various highlights. Do remember that this cost needs to be paid separately. The chauffeur hired from our service is well aware of the native routes. Apart from this, the driver will provide classic details about various sites which are visited. These chauffeurs can interact in English which is counted as a beneficial trait of our service.
This journey can be travelled in Mercedes & VW cars. We own a good range of sedans, minivans and minibuses. These vehicles consist of GPS systems that assist in hassle-free navigation. The trip expense includes driver & vehicle cost along with fuel charge, parking and toll taxes. There are different tour costs that depend on the vehicle you select for this journey. Dining cost along with entrance fee to different highlights is excluded from the tour amount.
Read more
Highlights
Breath-taking views of the Amalfi Cost

Stops in Amalfi and Paestum

Ruins of Paestum

Greek Temple of Hera I

Greek Temple of Hera II
Cost
1-2 Passengers (Sedan) 450
3-4 Passengers (Sedan/Minivan) 500
5-6 Passengers (Minivan) 550
7-8 Passengers (Minivan) 600
9-10 Passengers (Minibus) 950
* Extra pax charged at 50 Euro per person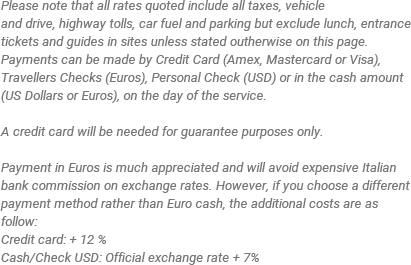 Notes
Comfortable walking shoes are suggested for this tour.

Minibus/Bus City Taxes
Amalfi : 9 - 14 pax 80
Amalfi : 15 - 50 pax 100

Entrance Fees and Times
Entrance fees:

Emerald Grotto - 5 Euro
(Open 09.00 AM - 5.00 PM)

Paestum ruins and Museum - 6.50 Euros
(Open 9am - 5pm)

Museum closed on Mondays

Private guide service at the ruins of Paestum is available upon request at an extra charge.
Similar Tours at Amalfi-coast