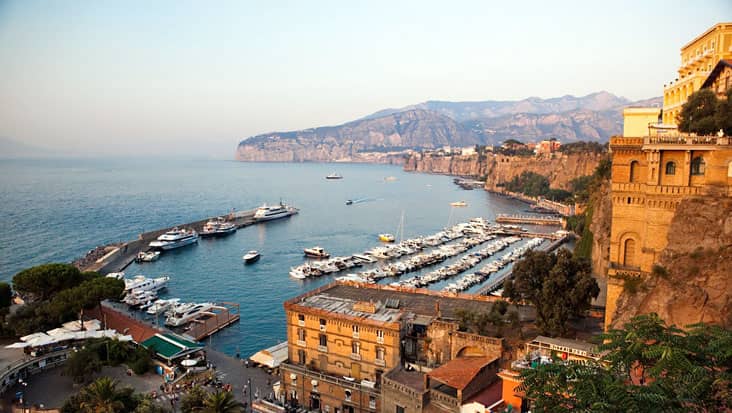 Duration 8 Hrs (Full Day)

Available Everyday of the year

FROM

450
'To reach the international town of Sorrento we will drive up to the furthest point of the famous Costal Road, spectacular views of the entire bay of Naples and the Island of Capri (that was once joined to Sorrento) will take your breath away. A short drive through the town and we will arrive at its center – a major shopping mall for the local people as well as tourists, with many stores (normally open all day, every day in the summer, but during the low season between 09:00am – 1:00 then 5:00 – 10:00, approximately). The Pizzeria's in town are highly recommended, otherwise, the famous restaurant Don Alfonso that holds 3 Michelin stars, and is in the nearby village of Sant 'Agata.
Sorrento, also being a city from the past, has an interesting history museum "Correale di Terranova" that can be visited in the morning only. Down-hill directly through Positano, after the winding one-way road, is the busy central Piazza dei Mulini. There you must leave the car because streets leading to the waterfront are for pedestrians only. To take a break from the crowds of tourists we will take a short walk to Trattoria La Tagliata, a small cozy restaurant where you can taste some of the finest home-made food in southern Italy. After our delicious lunch we will continue to the cathedral; shops selling ceramics, lemons, shoes, and clothing line the avenues on the way. Positano is alive at night as well as during the day with exotic nightclubs such as "Music on the Rocks" and various bars and cafés that remain open until the sun begins to rise. There is a short walk back uphill to return to the car and back to the main road.
A slow uphill drive along a very narrow road past several wineries and olive factories leads to Ravello, a rural village un-tainted by tourism, perched on top of the mountain cliff above Amalfi and Minori. Ravello, is famous for its breath-taking views, natural beauty, and ancient monuments, presented at their best in the breathtaking gardens of Villa Cimbrone and Villa Rufolo. There are also many classical concerts held in the gardens of Villa Rufolo, located just off the main square of Ravello, tickets cost approximately 20,00 Euro each. Apart from the main cathedral, and museum there are many other churches to visit. Along the narrow arches of Via Roma, you will find a few small boutiques, and scattered around the vicinity are some traditional local restaurants with a cuisine quite different from those close to the sea; Cumpà Cosimo, Da Salvatore, Villa Maria and Villa Amore, are all exceptional in their own ways.
This tour includes a Professional English-speaking driver. Due to strict Italian laws & regulations that protect officially licensed guides, our drivers can only comment and explain the sights from inside the vehicle and are not allowed to do so once they are outside the vehicle. A guide, where needed, can be hired on request at an extra cost.', 'Comfortable walking shoes are suggested for this tour. Make sure your cameras are charged or load up on batteries!
Read more
Highlights
Breath-taking views of the Amalfi Cost

Stops in Sorrento, Positano and Ravello

Villa Rufolo

Villa Cimbrone

Beautiful Gardens of Villa Rufolo
Cost
1-2 Passengers (Sedan) 450
3-4 Passengers (Sedan/Minivan) 500
5-6 Passengers (Minivan) 550
7-8 Passengers (Minivan) 600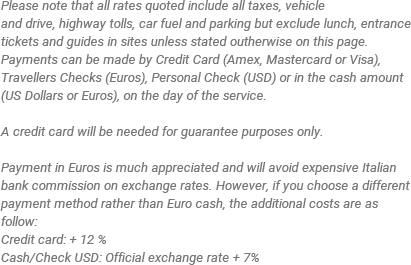 Notes
Comfortable walking shoes are suggested for this tour. Make sure your cameras are charged or load up on batteries!

Minibus/Bus City Taxes
Positano : 9 - 14 pax 160
Positano : 15 - 50 pax N/A

Entrance Fees and Times
• Villa Cimbrone: 09:00 AM - Sunset
• Villa Rufolo: Summer: 9:00 - 8:00 PM (last entrance 07:45 PM) Winter: 9:00 - 6.00 PM
• Emerald Grotto: 09:00am - 5.00 PM
(Check website for the latest entrance fees)
Similar Tours at Amalfi-coast