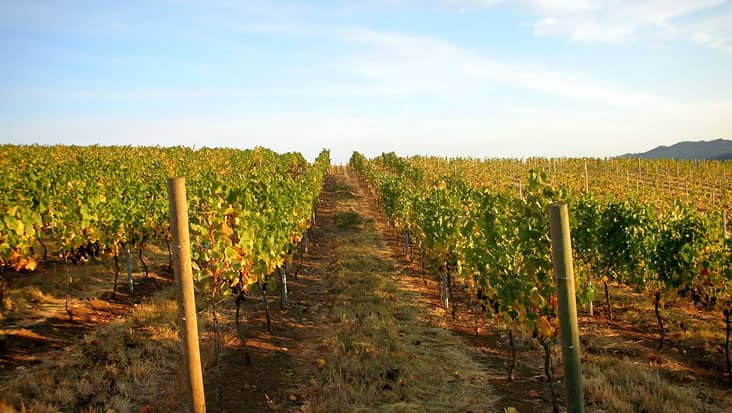 Duration 9 Hrs (Full Day)

Available Everyday of the year

FROM

575
Avellino is the land of great noble wines. Our tour allows access into all the main wine cellars in the area, where the following three wines are produced: (1) The "Greco di Tufo", an aristocratic wine that was first introduced by the Greeks from Thessaly. It's straw-colored, golden yellow, pleasing, and characteristic aroma, dry harmonic taste goes well with all dishes. (2) The "Fiano", an antique wine from the Latin "vitis apiana" (as it attracts bees), very aromatic and can also be served as an aperitif. It is Yellow-straw colored, intense pleasant aroma and dry taste (similar to toasted hazelnuts) goes well with all fish-based dishes. (3) The "Tauràsi", considered as one of the best "reds" in Italy and was the first in Campania to be awarded the prestigious DOCG. It's ruby, burgundy color and acquires orange reflections with aging, has a pleasing aroma, dry and aromatic taste goes well with lasagna, game, roasts, mushrooms and strong or seasoned cheeses.
Pompeii is an ancient Roman city destroyed and buried by the eruption of the volcano Vesuvius in 79 A.D. The remainder of the uncovered city is today buried under the new Pompeii rebuilt many years after the eruption. Archeological excavations are open to the public between the hours of 09:00 and 6:00 every day of the week, guides can be hired at the entrance or headphones can be rented, voicing explanations of the sites. Please note that since Pompeii is a popular area for tourists, we strongly recommend keeping track of your belongings.
This tour includes a Professional English-speaking driver. Due to strict Italian laws & regulations that protect officially licensed guides, our drivers can only comment and explain the sights from inside the vehicle and are not allowed to do so once they are outside the vehicle. A guide, where needed, can be hired on request at an extra cost.', 'Comfortable walking shoes are suggested for this tour.
Read more
Highlights
Avellino wine and cheese experience

Ruins of Pompeii

Archaelogical Excavations
Cost
1-2 Passengers (Sedan) 575
3-4 Passengers (Sedan/Minivan) 600
5-6 Passengers (Minivan) 625
7-8 Passengers (Minivan) 650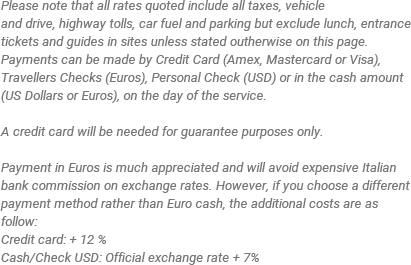 Notes
Comfortable walking shoes are suggested for this tour.

Minibus/Bus City Taxes
Pompeii : 9 - 14 pax 125
Pompeii : 15 - 50 pax 150

Entrance Fees and Times
Pompeii 08.30 AM – 6.00 PM
(Check website for the latest entrance fees)
Wine Tasting: Prices vary depending on which winery is available on the day of the tour and in relation to the type of wine chosen.
Private guide service at the ruins of Pompeii is available upon request at an extra charge.
Similar Tours at Amalfi-coast