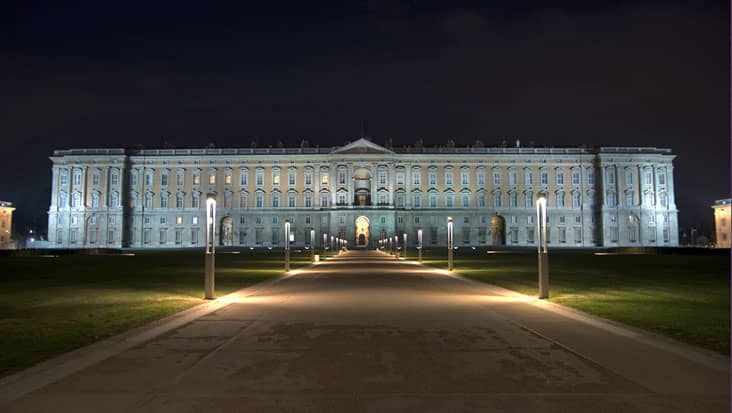 Duration 9 Hrs (Full Day)

Available Everyday of the year

FROM

575
Caserta is famous for the enchanting Royal Palace, surrounding gardens and spectacular fountains, which were acquired in the mid-18th century by the Bourbon King Charles III. The palace is rich in chandeliers, gilded frescoes, and impressive tapestries; has a grand total of over 1,200 rooms and 1790 windows. It designed and began building in 1752 by Luigi Vanvitelli and his son and was not considered completed until the Throne Room was finished in 1847. Amongst a fishpond, natural woodland and masses of shrubbery and flora, there is a 75-meter-high waterfall in the gardens, which is clearly visible from the palace located just 3 km away.
Pompeii is an ancient Roman city destroyed and buried by the eruption of the volcano Vesuvius in 79 A.D. The remainder of the uncovered city is today buried under the new Pompeii rebuilt many years after the eruption. Archeological excavations are open to the public between the hours of 09:00 and 6:00 every day of the week, guides can be hired at the entrance or headphones can be rented, voicing explanations of the sites. Please note that since Pompeii is a popular area for tourists, we strongly recommend keeping track of your belongings.
This tour includes a Professional English-speaking driver. Due to strict Italian laws & regulations that protect officially licensed guides, our drivers can only comment and explain the sights from inside the vehicle and are not allowed to do so once they are outside the vehicle. A guide, where needed, can be hired on request at an extra cost.', 'Comfortable walking shoes are suggested for this tour.
Read more
Highlights
Ruins of Pompeii

Royal Palace of Caserta

Spectacular Gardens and Fountains

Impressive tapestries
Cost
1-2 Passengers (Sedan) 575
3-4 Passengers (Sedan/Minivan) 600
5-6 Passengers (Minivan) 625
7-8 Passengers (Minivan) 650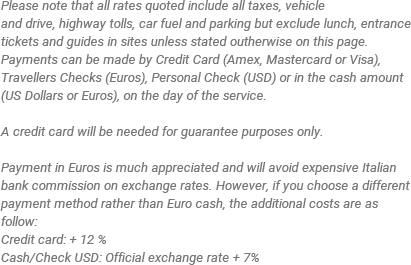 Notes
Comfortable walking shoes are suggested for this tour.

Minibus/Bus City Taxes
Pompeii : 9 - 14 pax 125
Pompeii : 15 - 50 pax 150

Entrance Fees and Times

Pompeii

Royal Palace of Caserta
Open 9am - 1pm
Closed on Tuesdays

Royal Park
Open 9am - 5pm
Closed on Tuesdays

Private guide service at the ruins of Pompeii is available upon request at an extra charge.
Similar Tours at Amalfi-coast