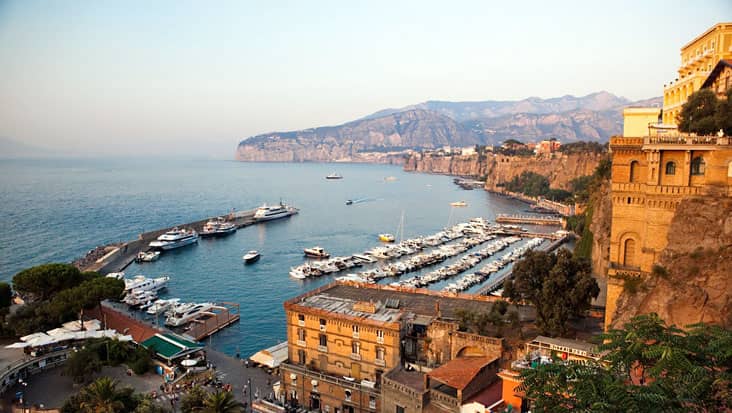 Duration 9 Hrs (Full Day)

Available Everyday of the year

FROM

525
To reach the international town of Sorrento we will drive to the furthest point of the famous Costal Road, spectacular views of the entire bay of Naples and the Island of Capri (that was once joined to Sorrento) will take your breath away. A short drive through the town and we will arrive at its center – a major shopping mall for the local people as well as tourists, with many stores (normally open all day, every day in the summer, but during the low season between 09:00am – 1:00 then 5:00 – 10:00, approximately). The Pizzeria's in town are highly recommended, otherwise, the famous restaurant Don Alfonso that holds 3 Michelin stars, and is in the nearby village of Sant 'Agata. Sorrento, also being a city from the past, has an interesting history museum "Correale di Terranova" that can be visited in the morning only.
Pompeii is an ancient Roman city destroyed and buried by the eruption of the volcano Vesuvius in 79 A.D. The remainder of the uncovered city is today buried under the new Pompeii rebuilt many years after the eruption. Archeological excavations are open to the public between the hours of 09:00 and 6:00 every day of the week, guides can be hired at the entrance or headphones can be rented, voicing explanations of the sites.
Herculaneum is an ancient residential town of Greek origin that was destroyed and buried in ashes, along with Pompeii, by the eruption of the volcano Vesuvius in 79 A.D and offers a variety of beautiful scenery and invaluable artifacts. Excavations began by accident in 1709 when some workers were digging a well discovered a wall which was later found to be one of the stages of the ancient theatre. The ruins can be visited at a cost of Euro 10,00 per person, but please note that since both Herculaneum and Pompeii are popular areas for tourists, we strongly recommend keeping track of your belongings.
This tour includes a Professional English-speaking driver. Due to strict Italian laws & regulations that protect officially licensed guides, our drivers can only comment and explain the sights from inside the vehicle and are not allowed to do so once they are outside the vehicle. A guide, where needed, can be hired on request at an extra cost.', 'Comfortable walking shoes are suggested for this tour.
Read more
Highlights
Ancient Roman ghost towns of Pompeii and Herculaneum

Beautiful Sorrento
Cost
1-2 Passengers (Sedan) 525
3-4 Passengers (Sedan/Minivan) 575
5-6 Passengers (Minivan) 600
7-8 Passengers (Minivan) 625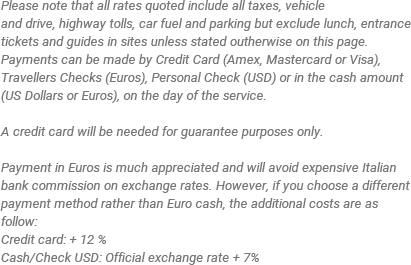 Notes
Comfortable walking shoes Please note that this tour is for people staying in the towns of the Amalfi Coast only or starting from the port of Amalfi/Positano. If you are coming in on a cruise ship please see our Shore Excursion page.

Minibus/Bus City Taxes
Positano : 9 - 14 pax 160
Positano : 15 - 50 pax N/A
Pompeii : 9 - 14 pax 125
Pompeii : 15 - 50 pax 150

Entrance Fees and Times
Pompeii Herculaneum: 08.30 AM – 6.00 PM
(Check website for the latest entrance fees)
Private guide service at the ruins of Pompeii and/or Herculaneum is available upon request at an extra charge.
Similar Tours at Amalfi-coast