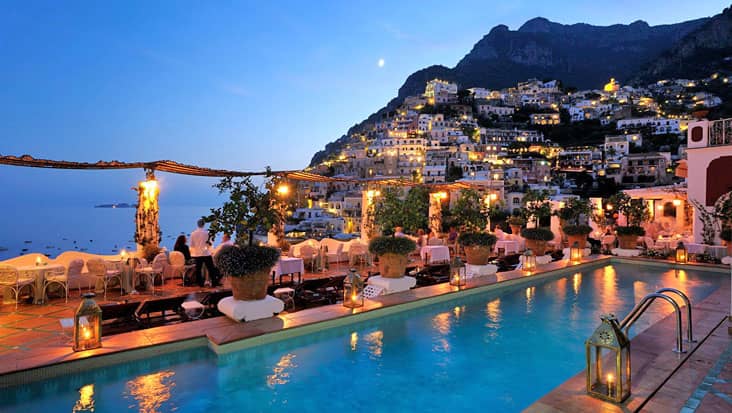 Duration 8 Hrs (Full Day)

Available Everyday of the year

FROM

400
Scenic Journey Covering Beaches and High Cliffs in Chauffeured Limousines Full of Comfort & Enjoyment for Amalfi Coast to Positano, Amalfi and Ravello Tour.
The towns of southern Italy are quite mesmerizing. You will surely enjoy a lovely experience of nature in areas such as Amalfi Coast and Positano. Amalfi Coast is a coastal destination that is visited by a large tourist population. This area is famous for its scenery that includes high cliffs and blooming gardens. You can access a road trip from Amalfi Coast to nearby regions that are quite refreshing. The Amalfi Coast to Positano, Amalfi and Ravello Tour can be managed in chauffeur driven cars. Benvenuto's service is quite famous all across Italy. We focus on offering a luxurious travel to our customers who wish to unfold the true beauty of this country. This journey will last for eight hours covering all the major highlights.
The Amalfi Coast to Amalfi, Positano and Ravello Tour should be accessed during the day time. It will help you reach maximum sites under the stated trip duration. Positano is a modern region that is full of artistic greatness. You can check out medieval art which is quite evident in different parts of the city. You shouldn't miss a chance to visit Piazza dei Mulini that will lead you to the seafront. Ravello is a town that is situated on top of a mountain cliff. You will be pleased by the view of the ancient monuments and the gardens that exist in this area. Villa Rufolo and Villa Cimbrone are some popular sites that can be visited in Ravello. Our chauffeurs will safely tour you to each of these glorious destinations. The drivers are well aware of the local roads which help them find the quickest routes. We manage a team of English-speaking chauffeurs who can easily interact with international tourists. Our service package for this journey will make sure that the customers dine at excellent restaurants. The dining cost along with the entrance fee to different sites needs to be paid separately.
You can travel in Mercedes sedans for Amalfi Coast to Ravello, Amalfi and Positano Tour. We possess E-Class and S-Class range of vehicles that are quite classy. For group travelling you can opt for a minivan which can accommodate up to seven passengers. The cost of the trip package depends on the vehicle you choose for touring.
Read more
Highlights
Breathtaking views of the Amalfi Coast

Stop in Positano, Amalfi and Ravello
Cost
1-2 Passengers (Sedan) 400
3-4 Passengers (Sedan/Minivan) 450
5-6 Passengers (Minivan) 500
7-8 Passengers (Minivan) 550
9-10 Passengers (Minibus) 875
* Extra pax charged at 50 Euro per person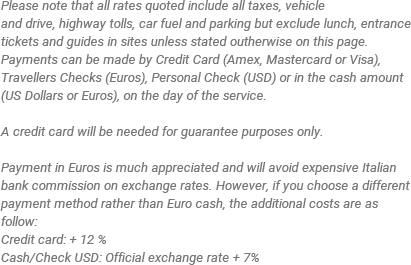 Notes
Comfortable walking shoes are suggested for this tour. Make sure your cameras are charged or load up on batteries! For groups larger than 8 pax, the best way to visit the Amalfi Coast, is by car or minivan. Minibuses are a lot harder to maneuver down to the town center of Positano, along with the parking issues. It is preferable to split the group into smaller vehicles, although the cost will be slightly higher, the group will still travel together throughout the tour and it will be a much better experience. Please note that this tour is for people staying in the towns of the Amalfi Coast only or starting from the port of Amalfi/Positano. If you are coming in on a cruise ship please see our Shore Excursion page.

Minibus/Bus City Taxes
Amalfi : 9 - 14 pax 80
Amalfi : 15 - 50 pax 100
Positano : 9 - 14 pax 100
Positano : 15 - 50 pax N/A
Ravello : 9 - 14 pax 50
Ravello : 15 - 50 pax 75

Entrance Fees and Times
€ 7 Villa Cimbrone Open 09:00 AM - Sunset
€ 7 Villa Rufolo Open Summer: 9:00 - 8:00 PM (last entrance 07:45 PM)
Winter: 9:00 - 6.00 PM
€ 5 Emerald Grotto Open 09:00am - 5.00 PM

Similar Tours at Amalfi-coast