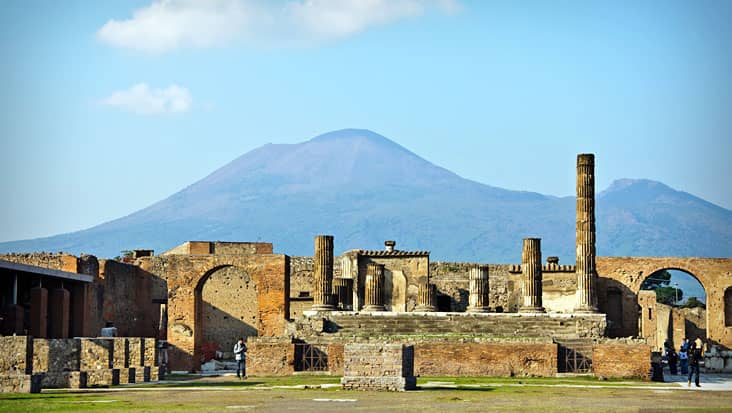 Duration 9 Hrs (Full Day Tour)

Available Everyday of the year

FROM

640
Relaxed Ride Consisting Exclusive Services for Travelers in Chauffeured Sedans/Minivans from Sorrento to Herculaneum, Vesuvius and Pompeii En-route to Naples.
Italy is one of the most renowned countries in Europe that attracts a large crowd of international tourists. The wonderful landscape present in this country is unmatchable. The coastal region of Sorrento is one such area that has its own charm. This town has a watery canvas backdrop that is truly mesmerizing. You can visit nearby areas by road that will indeed fill your heart with joy. A journey from Sorrento to Herculaneum, Vesuvius and Pompeii En-route to Naples will count as a complete road trip covering different geographical and cultural aspects of Italy. We offer a unique chauffeur service to cover this distance in luxury. All the major destinations and tourist spots will be easily reached in rich sedans that are driven by trained chauffeurs.
To explore Pompeii, Vesuvius and Herculaneum on the way to Naples starting from Sorrento you must wear relaxed shoes. The best part about this tour is that, you can check out numerous archaeological destinations merged with lovely natural sceneries. Pompeii and Herculaneum are the ancient Roman cities that have been transformed into tourist destinations. These cities were destroyed in 79 AD due to a volcanic eruption. Pompeii can be visited to explore ruins of temples and theatres which were part of the rich Roman Empire. Herculaneum is known to offer solid traces of the first Greek residence. Mount Vesuvius is popular among tourists who wish to check out the crater that is situated uphill. This distance will be covered in 45-minutes and needs to be trekked. You can trust our chauffeur who will safely guide you to each of these important landmarks. The attractive aspect is that you will be offered substantial knowledge related to major highlights from the driver during this journey.
For covering Sorrento to Vesuvius, Pompeii and Herculaneum Enroute to Naples you can access a Mercedes or VW car. These vehicles are loaded with GPS systems that help in simple & hassle-free navigation. Our service makes sure that the customers are offered a fine meal at quality restaurants during this tour. The total trip cost depends on the vehicle you select for travelling. Customers must prefer a day tour since maximum sites can be reached.
Read more
Highlights
The ruins of Pompeii

Archeological excavations

Herculaneum an ancient residential town of Greek origins

Mount Vesuvius

View the crater of Vesuvius
Cost
1-2 Passengers (Sedan) 640
3-5 Passengers (Sedan/Minivan) 760
6-8 Passengers (Minivan) 840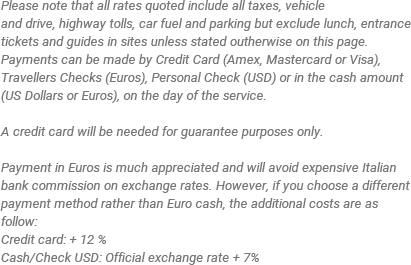 Notes
Comfortable walking shoes are suggested for this tour. Entrance fees: Pompeii - 15 Euros (Open 8:30 AM - 6:00 PM) Private guide service at the ruins of Pompeii is available upon request at an extra charge. Herculaneum - 11 Euros (Open 8:30 AM - 6:00 PM) Private guide service at the ruins of Herculaneum is available upon request at an extra charge. Available: Everyday of the year

Minibus/Bus City Taxes
Pompeii : 9 - 14 pax 125
Pompeii : 15 - 50 pax 150

Similar Tours at Sorrento