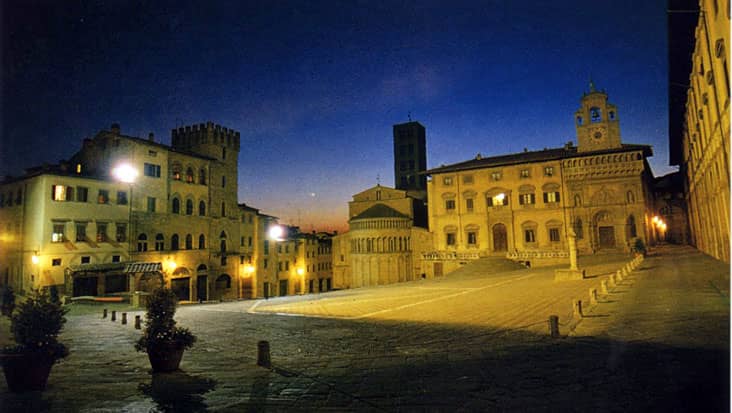 Duration 6 Hrs (Full Day Tour)

Available Everyday of the year

FROM

860
Spectacular Tour in Comfortable Cars Equipped With Quality Facilities for the Traveler's Comfort & Relaxation during Rome to Arezzo En-route to Florence.
The ancient towns present in Italy must be visited so as to learn about the vibrant art & architecture. Rome is the capital city that acts as a central spot for travelers who wish to tour different regions. A journey from Rome to Florence can be accessed which would provide spellbinding sceneries and tourist sites. We offer chauffeur service so that you can cover these distances in luxury. Rome to Arezzo En-route to Florence can be travelled in classic sedans under a decent price. You will experience a wondering time after entering these cities that possess artistic greatness from the past. The trip will last for six hours during which your well-being would the responsibility of the driver.
On your tour from Rome to Arezzo Enroute to Florence you will cross numerous sites that were once part of the Roman Empire. This journey is a blissful experience for history lovers because a number of ancient excavations would be visited. Arezzo is a popular town in Italy which is connected to the Etruscan period. The art of working gold is still active in Arezzo which is famous globally. This region is also known for its architectural beauty that is evident through its buildings and important monuments. The list of prominent highlights present in Arezzo include Basilica di San.Francesco, Praetorial Palace, Beautiful Gothic style Cathedral and the Roman Amphitheatre. Our talented chauffeur will help you tour each of these landmarks merged with on-trip commentary. These drivers are well versed with both English and the native dialect. This professional will act as a helping source so that your trip is managed peacefully.
You can reach Arezzo on the way to Florence starting from Rome in Mercedes sedans. These vehicles are fully loaded with amenities so that you travel in leisure. We also own Mercedes and VW minivans which are suitable for group travels. GPS systems are present in each of these vehicles that help in quick navigation. There is an entrance fee to various sites which needs to be paid. Remember that this cost is not included in the trip expense. This tour package is available for all days that make our service quite reliable.
Read more
Highlights



Duomo

Beautiful Gothic style Cathedral

Praetorial Palace

Fortezza Medicea ( the Medici Fortress)

Basilica di San. Francesco

Roman Amphitheatre and Archaeological Museum.



Cost
1-2 Passengers (Sedan) 860
3-5 Passengers (Sedan/Minivan) 950
6-8 Passengers (Minivan) 1020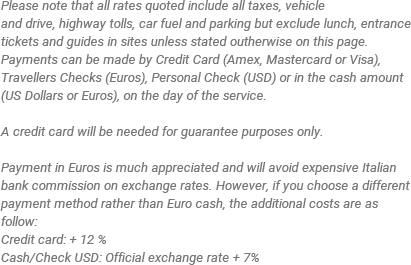 Notes

Minibus/Bus City Taxes