Amalfi Coast Tour Enroute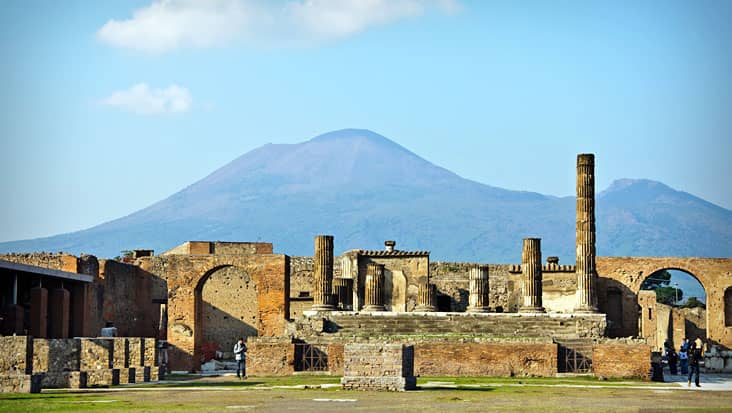 Duration 8 Hrs (Full Day Tour)

Available Everyday of the year

FROM

815
Tour Package from Amalfi Coast to Pompeii and Herculaneum En-route to Rome Will Let You Examine the Lovely Coastal Lifestyle & Archaeological Marvels.
For covering the serene locations across the Roman cities, the best option is to drive down. You can start your trip from Amalfi Coast that will surely surprise your senses through its classic coastal beauty. Benvenuto's tour package can be counted as the best option if you are travelling to Rome from this coastal town. This trip from Amalfi Coast to Pompeii, Herculaneum En-route to Rome will enlighten you about the greatness of the Roman Empire which once dominated the globe. The tour will last for eight hours in chauffeur driven limousines. We believe in offering a luxurious travel to our customers under an attractive price range.
Both Pompeii and Herculaneum were destroyed by the volcanic eruption in 79 A.D but the archaeological excavations are carefully preserved for the public to see and learn about the history. The entrance fee for Pompeii and Herculaneum is 13 Euros per site and is not included in the tour package. Pompeii is famous for several sites such as Macellum of Pompeii along with Temple of Isis and Suburban Baths. On the other hand, Herculaneum is the oldest residential town of Greeks which makes it supremely important. The trip from Amalfi Coast to Pompeii and Herculaneum Enroute to Rome must be covered during the day time. The advantage is that you can visit maximum sites before sunset. The drivers offered through our service are well aware of the local maps and this is a huge benefit for the travelers. You can reach different landmarks in quick time in our luxury cars.
The driver will surely offer informative commentary related to the various sites and their significance. While visiting different landmarks you can hire a guide which can be easily accessed through our service. Do remember that the guide's fee will be excluded from the actual tour package to Herculaneum and Pompeii on the way to Rome starting from Amalfi Coast, however it can be hired with an extra cost. There are different vehicle options ranging from sedans, minivans to minibuses. Each of these vehicles is driven by qualified drivers who have an excellent knowledge about local restaurants and eateries.
Read more
Highlights
Visit Pompeii

Archeological excavations

ancient residential town of Greek origins

beautiful scenery and invaluable arts
Cost
1-2 Passengers (Sedan) 815
3-5 Passengers (Sedan/Minivan) 935
6-8 Passengers (Minivan) 1030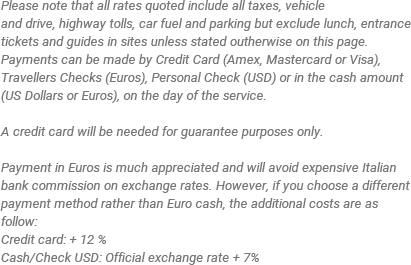 Notes
Comfortable walking shoes are suggested for this tour. Entrance fees: Pompeii - 15 Euros Open 8:30 AM - 6:00 PM Private guide service at the ruins of Pompeii is available upon request at an extra charge. Herculaneum - 11 Euros (Open 8:30 AM - 6:00 PM) Private guide service at the ruins of Herculaneum is available upon request at an extra charge. Available: Everyday of the year

Minibus/Bus City Taxes
Pompeii : 9 - 14 pax 125
Pompeii : 15 - 50 pax 150

Similar Tours at Amalfi-coast