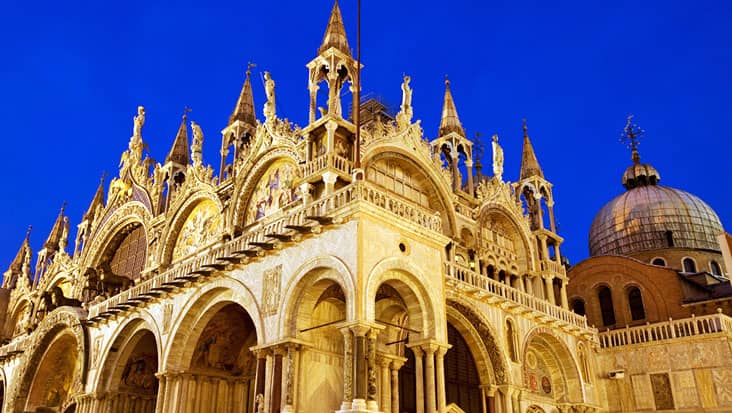 Duration 6 Hrs (Full Day)

Available Everyday of the year

FROM

1100
Venice to the Best of Venice Shore Excursion: Hire Chauffeur Driven Limousines for Examining the Astonishing Sections of this Romantic City Popular Worldwide.
Italy is famous for its majestic locations that are quite amazing. Venice is a renowned romantic destination that is popular in Europe. This region consists of water channels which are admired by tourists. You will get to access a boat ride so as to reach several fascinating locations. One can even hire a road trip for Venice to the Best of Venice Shore Excursion. Benvenuto offers chauffeur-driven cars that are filled with luxury and comfort. This is surely a unique travel option that can be accessed at an affordable price. The duration of the trip is six hours which would be completed without facing any sort of inconvenience. It is advised that you start the trip in the day time that would help you reach various important landmarks in quick time.
This tour to Venice will start with a smooth walk to the streets and buildings. The popular landmarks such as Saint Mark's church and The Doge's Palace will be covered in this trip. These are excellent monuments for learning about the richness of Venetian Republic. You will cherish the view of Byzantine art that is spread in different parts of the city. There are golden mosaics as well which are praised by tourists. The tour will later lead you to the three Islands of the mainland, that is, Murano, Burano and Torcello. You can trust our guides who are well aware of the native routes. These guides can talk in both English and the local language. This is a good service trait that benefits foreign tourists. The guide will also help you find superb restaurants in that offer delicious dishes. Entrance tickets and dining bills are excluded values that need to be paid differently by the travelers.
The Doge's Palace, Bridge of Sighs, Saint Mark's church. Close to the Doge's palace is the church which was once the Doge's private chapel and today the Venetian cathedral. A rare example of Byzantine art with its golden mosaics and the "Pala d'Oro" (Golden Alterpiece) rich in enamels, precious stones and jewels. Inside this church one can also visit the Gallery in order to see the original bronze horses brought from Costantinople during the second Crusade.
On exiting the church, your water taxi will be waiting for you to escort you to the three Islands off of the mainland, Murano, Burano and Torcello. The infamous glass factories located on the Islands will be a temptation to you to furnish your home with spectacular works from local glass blowers in Murano and Burano. Watch as the locals show you how their talents produce unbelievable works. On to Torcello. Walking through the streets of Torcello you will see the local women making exceptional lace garments, a true tradition to the Island.
Read more
Highlights
The Doge's palace

Saint Mark's church

Bridge of Sighs

Murano, Burano and Torcello
Cost
1-2 Passengers 1100
3-4 Passengers 1150
5-6 Passengers 1300
7-8 Passengers 1600
9-10 Passengers 2000
Groups over 10 pax will be quoted on request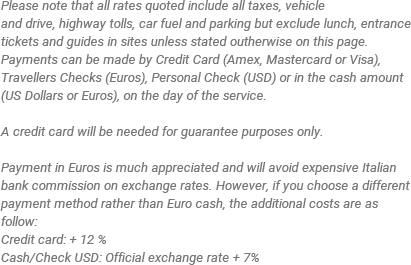 Notes
This tour is a 2 hour walking tour, followed by a 4 hour boat tour, includes a private transfer to and from the port. We strongly recommend a guide for the 4 hour boat tour, the extra will be 420 Euros. Comfortable walking shoes are suggested for this tour.

Minibus/Bus City Taxes

Entrance Fees and Times
Palazzo Ducale ( Doge's Palace ) - 10.00 Euros
(Mon 8:30 AM - 2:00 PM, Tues - Sun 8:30 AM - 7:15PM
Closed on Mondays and JAN1, MAY1, DEC25

Available: Everyday of the year
Similar Tours at Venice