Taormina Shore-Excursions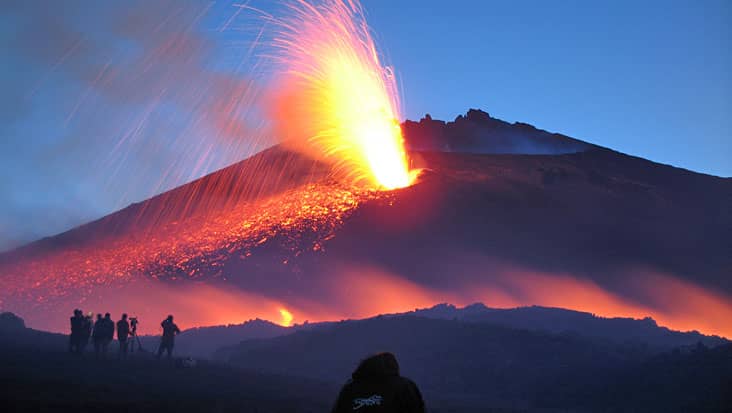 Duration 9 Hrs (Full Day)

Available Everyday of the year

FROM

575
Taormina to Etna and Taormina Shore Excursion: Get Inspired After Visiting the Marvelous Cultural Sites Riding in Luxurious Mercedes Sedans & Minivans.
The coastal regions of Italy are known for their scenic greatness. You will surely praise the marvelous ports and seafront locations which are present in & around Sicily. One can access a chauffeur-driven ride from Taormina so as to reach other fabulous destinations. Taormina to Etna and Taormina Shore Excursion is a unique trip that will cover several popular landmarks. Benvenuto chauffeur service will help you hire Mercedes sedans & minivans which are perfect for long distance travelling. You will learn about the culture and tradition that exists in these towns while cruising in a comfortable environment. Tourists must start this ride in the morning hours. This will allow them to visit maximum highlights without any delay. The tour cost is not that expensive which makes Benvenuto so popular in Italy.
Mount Etna is a valued destination for the Greeks present in Italy. It is an active volcano which has erupted several times in the past. Tourists prefer visiting this landmark so as to explore the greatness of Mount Etna. You will be toured to examine the various craters which are present in this area. Next location is Taormina that is tagged as the resort town of Italy. Mt. Tauro can be easily seen from Taormina which is quite fascinating. The historical and cultural sites present in this town are worth a visit. Trust our chauffeurs as they will quickly cruise you to all the important tourist spots. During Taormina to Taormina and Etna Shore Excursion you will be kept well informed about all the major landmarks. This is an excellent service feature managed by Benvenuto. We also possess a group of English-speaking chauffeurs who can fluently converse with foreign travelers. What else? Our service will make sure that the travelers are led to interesting restaurants in the vicinity that serve mouth-watering dishes.
The drive to Taormina and Mount Etna is very serene and picturesque. We are a customer-friendly chauffeur service which believes in offering a luxurious experience to our travelers. You can select Mercedes or VW vehicle that are stunning and spacious. Each of these vehicles is armed with GPS systems that assist in swift navigation.
Read more
Highlights
Mount Etna, Europe's highest and one of the world's most active volcanoes

Taormina, Sicily's most picturesque town

An Ancient theatre built by the Greeks

Palazzo Corvaja
Cost
1-2 Passengers (Sedan) 575
3-4 Passengers (Sedan/Minivan) 625
5-6 Passengers (Minivan) 675
7-8 Passengers (Minivan) 725
9-10 Passengers (Minibus) 1100
* Extra pax charged at 50 Euro per person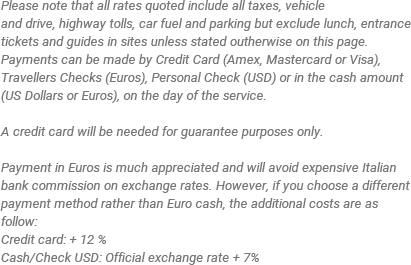 Notes
Comfortable walking shoes are suggested for this tour. Our vehicle will reach the highest driving point (6000 ft) where you can then decide to either visit the vulcano by cablecar or jeep (prices on the right under entrance tickets) or take a picture and proceed. Make sure your cameras are charged or load up on batteries! During early Spring, Fall and Winter, when visiting Mount Etna, make sure to bring a heavy jacket with you due to low temperatures! Available: Everyday of the year.

Minibus/Bus City Taxes

Entrance Fees and Times
€ 30 Cable car (per person)
€ 60 Cable car and Jeep (per person)
Similar Tours at Taormina