Sorrento Shore-Excursions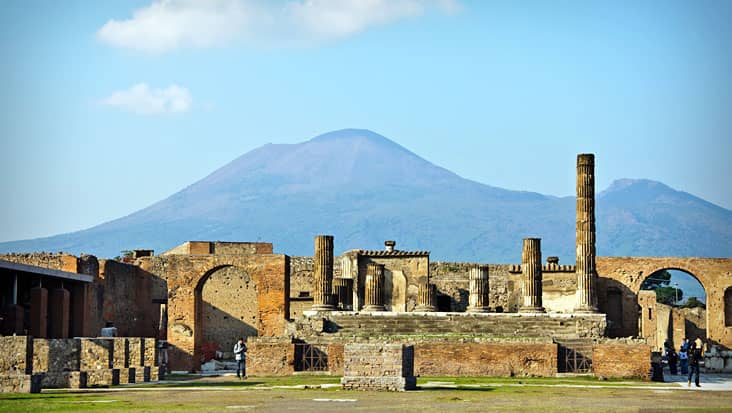 Duration 8 Hrs (Full Day)

Available Everyday of the year

FROM

525
Paint Yourself into the Historical Colors of the Romans While Touring Various Archaeological Sites during Sorrento to Pompeii and Herculaneum Shore Excursion.
South Italy is full of historical sites that are famous worldwide. You can access a road trip from Sorrento so as to reach the marvelous excavations of Pompeii and Herculaneum. Benvenuto's chauffeur service can help you access a comfortable ride for touring these areas. For Sorrento to Pompeii and Herculaneum Shore Excursion you will be offered a Mercedes limousine along with an experienced chauffeur. Our service makes sure that the customers do not face sort of inconvenience during the whole trip. The duration of this ride is eight hours wrapped in total luxury. Tourists are advised to access this trip during the morning hours. This way they can visit maximum highlights without any delay.
Pompeii and Herculaneum are full of historical monuments that were built during the Roman Era. These two towns were destroyed in 79 AD due to the raging effects of Mount Vesuvius. Pompeii can be examined for checking out remains of castles and theatres. The popular landmarks in this area include the Amphitheater, Suburban Baths and the Temple of Isis. Herculaneum is a special area which preserves traces from the first Greek residency that was established in this land. There are sculptures and art work that can be seen in this region. The Village of the Papyri, Central Thermae and College of the Augustales are tagged as the renowned landmarks in Herculaneum. You will be kept well informed by the chauffeur about each of the popular sites during this ride. This is an excellent service trait offered by Benvenuto. Our drivers can speak both English and Italian in order to fulfill the needs of the travelers. We make sure that the customers are guided to quality eateries so as to savor delicious food items. Entrance ticket to different sites along with dining bill is counted as an exclusive charge. You need to pay such amounts separately.
For Sorrento to Herculaneum and Pompeii Shore Excursion we offer classic vehicles that are suitable for long travels. These vehicles are equipped with GPS systems that help in quick navigation. Mercedes sedans & minivans can be selected without any issue from Benvenuto. We also offer minibuses if the number of travelers is more than eight. The tour package cost fluctuates depending on the vehicle you select for traveling. Fuel charge, highways tolls and other taxes are all included in this expense.
Read more
Highlights
The ruins of Pompeii

Archeological excavations

Herculaneum, an ancient residential town of Greek origins
Cost
1-2 Passengers (Sedan) 525
3-4 Passengers (Sedan/Minivan) 550
5-6 Passengers (Minivan) 575
7-8 Passengers (Minivan) 600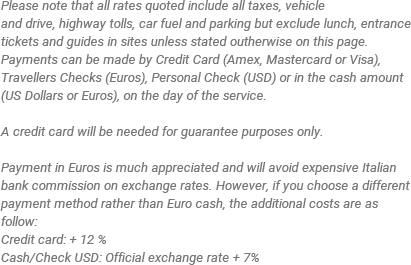 Notes
Comfortable walking shoes are suggested for this tour. Private guide service at the ruins of Herculaneum is available upon request at an extra charge. Private guide service at the ruins of Pompeii is available upon request at an extra charge. Available: Everyday of the year

Minibus/Bus City Taxes
Pompeii : 9 - 14 pax 125
Pompeii : 15 - 50 pax 150

Entrance Fees and Times
Herculaneum - 11 Euros
(Open 8:30 AM - 6:00 PM)

Pompeii - 15 Euros
(Open 8:30 AM - 6:00 PM)
Similar Tours at Sorrento