Sorrento Shore-Excursions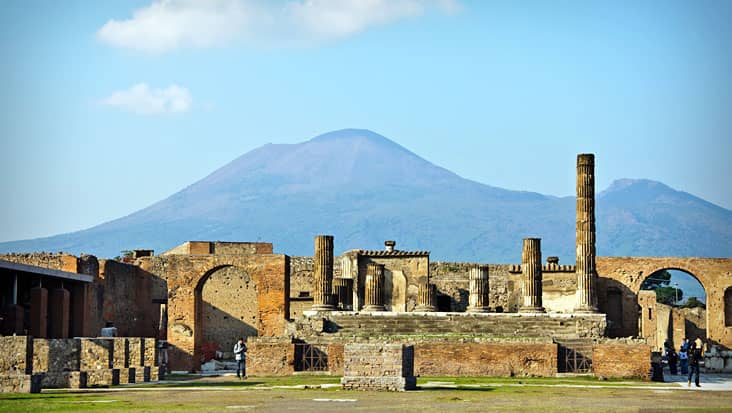 Duration 9 Hrs (Full Day)

Available Everyday of the year

FROM

525
Sorrento to Pompeii, Vesuvius and Herculaneum Shore Excursion: Historically Rich Tour to Ancient Excavations Famous in South Italy Cruising in Rich Vehicles.
The best way to explore Italy is by accessing a road journey. The lovely coastal town of Sorrento attracts millions of tourists every year. You will fall in love with this artistic area that is filled with popular monuments and architectural structures. Benvenuto chauffeur service offers chauffeured sedans for touring Sorrento and nearby areas. Sorrento to Pompeii, Vesuvius and Herculaneum Shore Excursion is an exclusive trip that will keep you excited. The tour will last for nine hours helping you visit numerous important sites. Tourists are advised to start this trip in the morning hours. This would prove advantageous for checking out maximum highlights without any time crunch.
The Sorrento to Herculaneum, Pompeii and Vesuvius Shore Excursion would inspire you about the bright history of the Romans. Pompeii and Herculaneum are the ancient towns in south Italy which were destroyed due to a volcanic eruption. You will be toured to various archaeological sites in Pompeii that consists of castles & theatres. The popular landmarks in this town include Amphitheater of Pompeii and the Temple of Isis. Herculaneum possesses traces & artifacts from the Greek civilization which was established during the Roman Era. Mount Vesuvius falls in the backdrop of these two ancient towns and is a strong natural figure. Tourists access a trek to reach the crater which can be covered in 45 minutes. Our chauffeurs are well aware of the local roads that prove as a benefit for saving travel time. The English-speaking chauffeur hired by Benvenuto will keep you well informed about different monuments and sites which are covered in this trip. Our service will also make sure that you reach quality restaurants so as to dine in a relaxed environment. The dining cost and entrance tickets to various locations are not a part of the main tour expense.
Sorrento to Vesuvius, Herculaneum and Pompeii Shore Excursion can be covered in exotic Mercedes & VW vehicles. This travel to Pompeii, Vesuvius and Herculaneum will surely keep you happy due to the relaxed environment managed in these vehicles. The cars consist of GPS systems that assist in quick touring. Sedans, minivans and minibuses can be hired depending on the wish of the passengers.
Read more
Cost
1-2 Passengers (Sedan) 525
3-4 Passengers (Sedan/Minivan) 550
5-6 Passengers (Minivan) 575
7-8 Passengers (Minivan) 600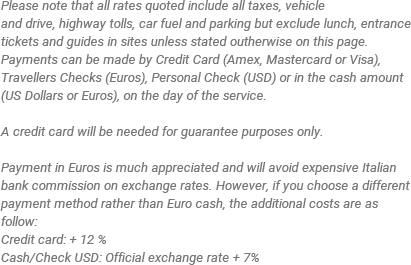 Notes
Comfortable walking shoes are suggested for this tour. Comfortable walking shoes are suggested for this tour. Private guide service at the ruins of Herculaneum is available upon request at an extra charge. Private guide service at the ruins of Pompeii is available upon request at an extra charge. Available: Everyday of the year

Minibus/Bus City Taxes
Pompeii : 9 - 14 pax 125
Pompeii : 15 - 50 pax 150

Entrance Fees and Times
Herculaneum - 11 Euros
(Open 8:30 AM - 6:00 PM)

Pompeii - 11 Euros
(Open 8:30 AM - 6:00 PM)
Vesuvius - 6.50 Euros
(Open 8:30 AM - 6:00 PM)
Similar Tours at Sorrento