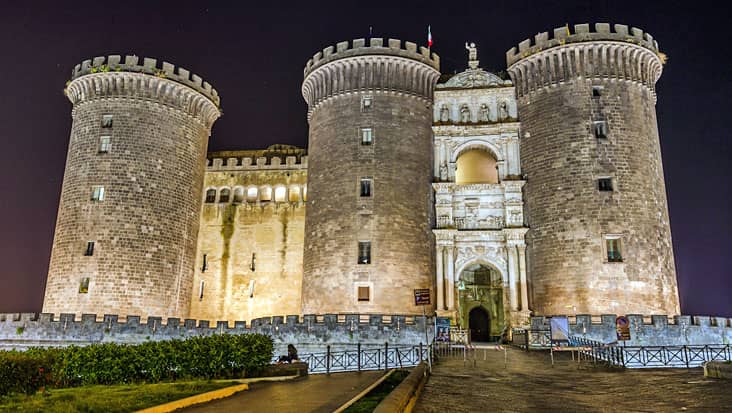 Duration 9 Hrs (Full Day)

Available Everyday of the year

FROM

575
Salerno to Naples and Pompeii Shore Excursion: Paint Yourself in the Amazing Colors of Cultural Greatness Hidden in South Italy Cruising in Mercedes Sedans.
Italy is decorated with gorgeous landscapes which are popular all over the world. Southern Italy is indeed rich in terms of historical, cultural and natural elements. Salerno is a serene area that is filled with medieval structures. A large number of tourists prefer visiting this peaceful city which is located close to the sea. Salerno to Naples and Pompeii Shore Excursion is a special ride that can be hired in chauffeured vehicles. Benvenuto chauffeur service is a reputed company that offers Mercedes sedans & minivans which are high on class. All your needs would be very well taken care during this drive of nine hours. Make sure you wear sports shoes or any relaxed footwear for this journey.
Naples is an important metropolitan that is also popular as the prime political hub in Italy. One can visit this area so as to learn in-depth about Italian culture which is very vibrant. The popular landmarks in this city include the Castle of Maschio Angioino and the cathedral of San Gennaro. Pompeii is the next destination which is situated close to Mount Vesuvius. Tourists visit this area in order to examine the exquisite ancient ruins of the destroyed town. Suburban Baths, Amphitheater of Pompeii and The Temple of Isis are tagged among the well-known landmarks in Pompeii. The driver hired through our service will pour useful details regarding all the popular tourist spots during this ride. Our chauffeurs can speak both English and Italian without any difficulty. This is a wonderful service feature of Benvenuto that helps attract more customers. A private guide can be employed for learning precisely about different historical & cultural sites. Do remember that, the hiring charge is excluded from the total tour cost.
Our service offers Mercedes E-Class and S-Class sedans for Salerno to Pompeii and Naples Shore Excursion. These rides are grand and efficient for covering large distances in quick time. Mercedes V-Class and VW Caravelle minivans can also be accessed but at a higher rate as compared to sedans. You will be amazed to know that, we also house minibuses that can hold a total of ten passengers. Entrance ticket for moving inside Pompeii needs to be paid on the spot by the travelers.
Read more
Highlights



Pizza Margherita

Museum of National Archaeology

The ruins of Pompeii

Archeological excavations
Cost
1-2 Passengers (Sedan) 575
3-4 Passengers (Sedan/Minivan) 625
5-6 Passengers (Minivan) 675
7-8 Passengers (Minivan) 725
9-10 Passengers (Minibus) 1100
* Extra pax charged at 50 Euro per person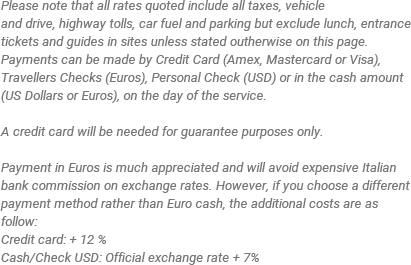 Notes
It is advisable not to wear jewelry, or carry large handbags while touring Naples. Keep your wallets safe. Archeological Museum - 6.50 Euros Closed on Tuesdays Pompeii - 11 Euros Open 08:30 AM - 6:00 PM Private guide service at the Archaeological Museum of Naples and/or at the ruins of Pompeii is available upon request at an extra charge. Available: Everyday of the year

Minibus/Bus City Taxes
Pompeii : 9 - 14 pax 125
Pompeii : 15 - 50 pax 150