Portofino Shore-Excursions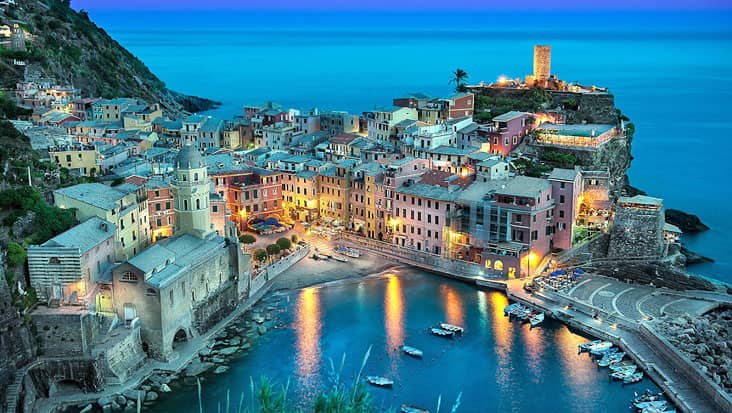 Duration 8 Hrs (Full Day)

Available Everyday of the year

FROM

575
The Cinque Terre area is connected to one another by sea, by train, and by trails along the coast. You will first be first led towards Portovenere. From this area you can access a boat ride to reach Cinque Terre. Upon arrival, you can continue to take the boat to reach Vernazza, passing by Corniglia. Lastly you will arrive at Monterosso, where you'll find your driver waiting for you. Throughout the tour, you can stop as long as you like--eat the best fish in the world, sample the wine produced on the hill that surrounds the villages, revel in the incredible color of the sea and the sky.
The price of this tour does not include ferry tickets. A boat tour (one way) is 24€ per person. The ticket allows you to visit all the Cinque Terre, one way. You can disembark the ferry at any village and stay as long as you like. When you're ready to continue your journey, simply re-board the ferry, with the same ticket, and continue your trip.Because the towns are not well connected by roads for vehicles, we highly recommend visiting by train or boat, only the vehicle as a last resort.
In order to enjoy this tour, besides using our vehicle, it will also be necessary to use the train and/or boat services and, therefore, this itinerary is not suitable for people with limited mobility.The train runs year round, but the boat is subject to weather conditions.
Read more
Highlights
Portovenere

Vernazza,

Monterosso
Cost
1-2 Passengers (Sedan) 575
3-4 Passengers (Sedan/Minivan) 625
5-6 Passengers (Minivan) 675
7-8 Passengers (Minivan) 725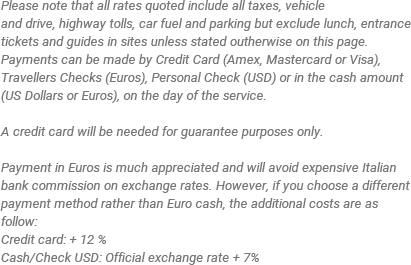 Notes
Comfortable walking shoes are suggested for this tour. Currently the Manarola Love Path is closed. Available: Everyday of the year • Your English-speaking driver will not enter sites with you or join you in Monterosso and Vernazza, but will give running commentaries of what you are seeing during the driving time and make sure you have enough time to visit each site. • The price of this tour does not include ferry tickets. A boat tour (one-way) is 22€ per person. Your driver will assist you in acquiring these tickets and guide you on how to best meet him in Monterosso. • The conditions and availability of certain features are ever-changing in the Cinque Terre; we reserve the right to modify the itinerary to give you the most satisfying visit with respect to the situation on the day of your visit. • Changes in local ordinances (particularly with respect to where we can enter with the vehicle and park) may also make it necessary to alter your itinerary. If you prefer a hand in hand service you might opt to get a guide for the day, which we strongly recommend. The guide will meet you at the Cinque Terre and will be with you for about 6 hrs to show you the sites that the driver is not allowed to.

Minibus/Bus City Taxes
Cinque Terre : 9 - 14 pax 100
Cinque Terre : 15 - 50 pax 150

Similar Tours at Portofino