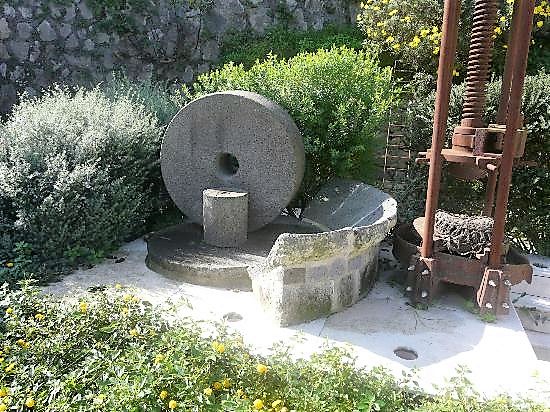 Duration 9 Hrs (Full Day)

Available Every day Expect wednesdays

FROM

525
If you are trying to make everybody in your party happy, this is the tour for you! Who doesn't love Pizza? Olive oil? Kid friendly tours? Exactly! Everybody does, especially kids!
Your private English speaking driver will pick you at the port and will drive by the city of Naples on the way to the world famous Gargiulo Olive Oil Farm. The mill is situated right on the hills of Sorrento, more specifically Sant' Agnello, where, for over a century, they have actively produced the famous extra-virgin olive oil.
The guided tour of the olive oil factory will start with a visit to the olive grove with a presentation of the areas used for cultivation and collection. Next, a visit to the mill built around 1849 that started the famous family tradition. With old millstones and metal presses, you'll learn the ancient technique of olives processing, you can see what it takes to make the oil. You will then take a visit to the modern mill and see current processing before, finally, the best part: the tasting of the extra-virgin olive oil on freshly baked bread and other typical products.
Now that we've got your taste buds awakened and your stomach growling, we will take you to make and eat your very own authentic made pizza. The original pie is made with local and fresh ingredients like olive oil, mozzarella cheese and San Marzano tomatoes, which grow on the volcanic plains in the southern part of Mount Vesuvius.
Your local pizza chef Lucio and his son will explain how Neapolitan pizza is made with mother yeast and happily share his ancient family recipe with you. Then, time to put your aprons on, and start working the already made dough! With a tarantella song in the background, you will follow their directions and learn how to throw pizza in the air while having tons of fun! Finally, top your pizza with your favorite ingredients, toss it in for a couple of minutes into the wood oven and "Buon appetito"! Water, wine and dessert will also be included.
With a full belly and happy hearts, the final stop on this kid friendly shore excursion, will be Pompeii; the perfect place to visit, especially if your kids are studying Roman history in school. Pompeii used to be a part of the Roman Empire, but was demolished due to a volcanic explosion in 79 AD. This ancient town has been transformed into an archaeological site which is full of shattered theatres & temples. You will view the Temple of Isis and Suburban Baths along with many other interesting spots inside. In additional, we can hire a private guide for 2 hours for you, if you would like.
At the end of this fun filled day, your driver will take you back to the port. This day is fully customizable and can be fit best to fit the needs of you and your family We offer it every day of the week EXCEPT Wednesday's.
Read more
Highlights
Pizza Making, hands on

See how olive oil is made and taste it

Pompeii, 2000 years of history
Cost
1 Passenger (Sedan) 525
2 Passengers (Sedan) 550
3 Passengers (Sedan/Minivan) 625
4 Passengers (Sedan/Minivan) 650
5 Passengers (Minivan) 700
6 Passengers (Minivan) 725
7 Passengers (Minivan) 750
8 Passengers (Minivan) 800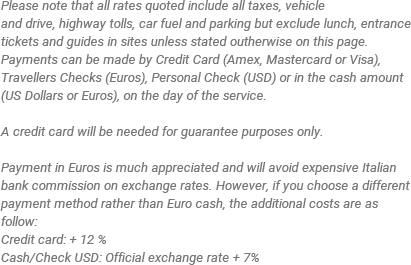 Notes
Comfortable walking shoes are suggested for this tour. Entrance fees: Pompeii - 13 Euros Open 09:00 AM - 6:00 PM Private guide service at the ruins of Pompeii is available upon request at an extra charge. For groups larger than 8 pax, the best way to visit the Amalfi Coast, is by car or minivan. Minibuses are a lot harder to maneuver down to the town center of Positano, along with the parking issues. It is preferable to split the group into smaller vehicles, although the cost will be slightly higher, the group will still travel together throughout the tour and it will be a much better experience. Available: Everyday of the year EXCEPT Wednesdays

Minibus/Bus City Taxes
Pompeii : 9 - 14 pax 125
Pompeii : 15 - 50 pax 150