La Spezia Shore-Excursions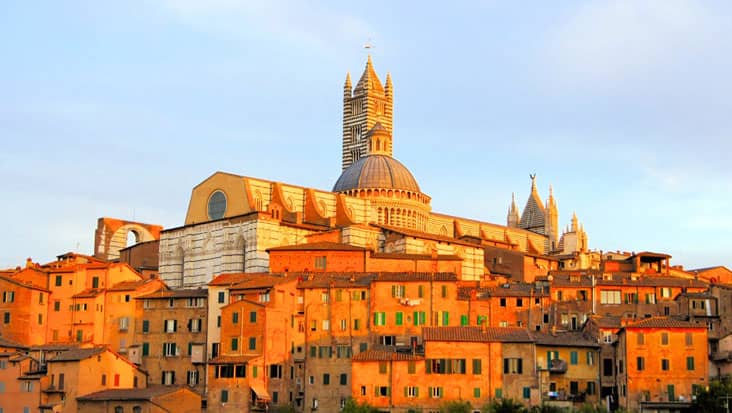 Duration 9 Hrs (Full Day)

Available Everyday of the year

FROM

750
Tour to Medieval Regions of North Italy Filled with Marvelous Monuments & Structures during La Spezia to Siena and San Gimignano Shore Excursion.
Northern Italy is very attractive in terms of its coastal locations. You must visit La Spezia which is the capital city of the province of La Spezia. The location of this region is quite panoramic due to the presence of Ligurian Sea on one side. Tourists visit La Spezia in order to check out the commercial & military harbors. You can access a lovely road trip to nearby regions that would help you learn about the different colors of Italy. The La Spezia to Siena and San Gimignano Shore Excursion is an excellent way to explore Italian culture and heritage. Benvenuto offers chauffeur-driven vehicles in order to reach all the prominent locations in these areas. The duration of the trip is nine hours that will be managed in total comfort & luxury.
For La Spezia to San Gimignano and Siena Shore Excursion it is suggested that the journey starts early morning. It would allow the tourists to visit maximum sites without any hassle. Siena is a famous town of Italy which is known for its medieval lifestyle. Tourists visit the Piazza del Duomo so as to examine the artistic Cathedral. Other popular landmarks in this town include the gorgeous Bernini statue of Mary Magdalene. You would also love the creative mosaics that are framed near this statue. San Gimignano is the next destination that would be covered in this journey. This town is situated on top of a hill and offers a scenic view. Duomoor Collegiate Church and Palazzo Nuovo del Podesta are the famous highlights in San Gimignano. The chauffeur would carefully tour you to all the important highlights. Useful details related to various sites would be offered by the driver. This is one major advantage of Benvenuto's chauffeur service. Our drivers hold good knowledge about the local routes and would also help you search the finest eateries.
We make sure that the needs of the customers are fulfilled during this ride. Our service offers Mercedes and VW vehicles which are loaded with useful amenities. Minivans and minibuses can also be hired when the number of travelers is large. You need to pay an entrance fee for various sites. Do remember that this amount is not part of the trip expense. Moreover, dining cost is also an exclusive charge.
Read more
Highlights
Piazza del Duomo

Bernini statue of Mary Magdalene

Cathedrals Baptistery

Elsa Valley

Duomo or Collegiate Church

Palazzo del Popolo

Palazzo Nuovo del Podesta

S. Agostino Church

Museum of Holy Relics

Museum of Torture
Cost
1-2 Passengers (Sedan) 750
3-4 Passengers (Sedan/Minivan) 800
5-6 Passengers (Minivan) 850
7-8 Passengers (Minivan) 885
9-10 Passengers (Minibus) 1250
* Extra pax charged at 80 Euro per person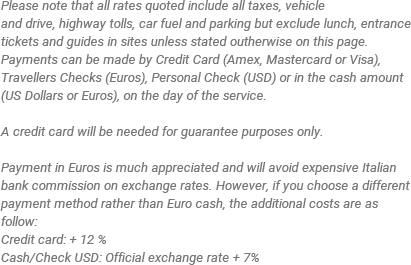 Notes
Comfortable walking shoes are suggested for this tour. Available: Everyday of the year

Minibus/Bus City Taxes
San Gimignano : 9 - 14 pax 130
San Gimignano : 15 - 50 pax 180
Siena : 9 - 14 pax 170
Siena : 15 - 50 pax 250

Similar Tours at La-spezia