La Spezia Shore-Excursions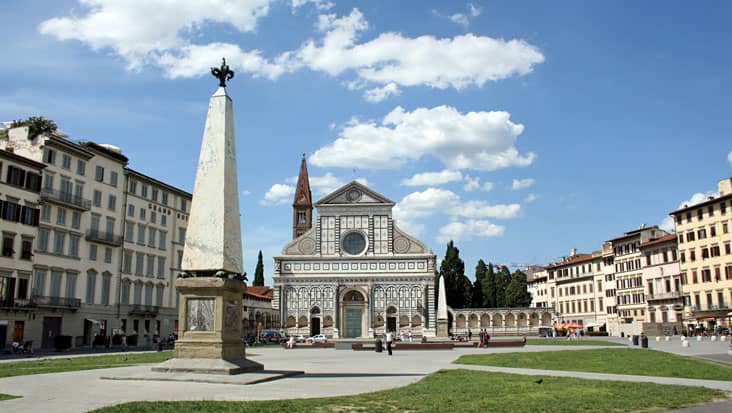 Duration 9 Hrs (Full Day)

Available Everyday of the year

FROM

750
La Spezia to Florence and Pisa Shore Excursion would Inspire you about the Vibrant Cultural Richness of North Italy While Touring in Chauffeured Limousines.
The classic destinations present in the northern areas of Italy are worth admiring. These locations are wrapped in a natural setup which is quite impressive. La Spezia is one such area that is located close to the sea. The harbor region of La Spezia offers a serene picture. You can start a tour from La Spezia to other regions that are rich in their own colors. Benvenuto chauffeur service offers La Spezia to Florence and Pisa Shore Excursion. This is a unique tour package that would be managed in total comfort. You would be offered Mercedes sedans & minivans that are high on style & luxury. The tour would be completed in nine hours covering several cultural and artistic landmarks. It is advised that the travelers should wear comfortable shoes for this trip.
You would first reach the marvelous city of Florence. The museums present in this area are very popular. This city is painted in medieval shades which makes it different and special. You can enjoy a lovely view of the Chianti hills while touring to the central city. The Statue of David, Piazza del Duomo and Giotto Bell Tower are some popular landmarks in Florence. Pisa is the next location in this trip. This area is linked to the Etruscan origin. You can visit the 'Field of Miracles' which houses the renowned Leaning Tower of Pisa. The other popular landmarks include the cathedral museum, Campo Santo cemetery and the Baptistery. Our driver will tour you safely to every major highlight in this town. The best part is that, our drivers hold detailed knowledge related to various monuments & landmarks. Benvenuto chauffeur service makes sure that the customers are kept well informed during the whole ride. The entrance ticket to various spots is not part of the tour cost. It has to be paid separately by the travelers.
For La Spezia to Pisa and Florence Shore Excursion you can select the ride of your choice. We own sedans, minivans and even minibuses that are efficient for easy cruising. Mercedes E-Class and S-Class vehicles are easily available for this travel. These vehicles are armed with essential facilities such as GPS systems. The tour cost depends on the count of travelers and the vehicle you select. Dining charge & guide hiring cost are exclusive values which need to be paid on the spot.
Read more
Highlights
Piazzale Michelangelo

Monuments to Michelangelo

statue of David

Accademia

Piazza del Duomo

the Baptistery

the Giotto Bell Tower

Duomo

Piazza della Signoria

Palazzo Vecchio

Uffizi Gallery

Ponte Vecchio

Santa Croce

Leaning Tower

"Field of Miracles"

Campo Santo

Baptistery

cathedral museum
Cost
1-2 Passengers (Sedan) 750
3-4 Passengers (Sedan/Minivan) 800
5-6 Passengers (Minivan) 850
7-8 Passengers (Minivan) 885
9-10 Passengers (Minibus) 1250
* Extra pax charged at 80 Euro per person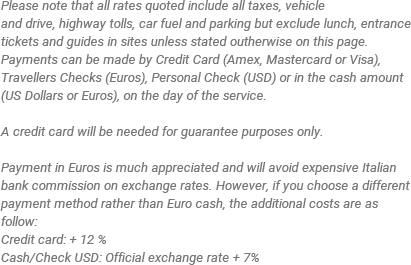 Notes
Comfortable walking shoes are suggested for this tour. Entrance fees: NOTE: There is only enough time to tour either the Uffizi or the Accademia on this tour. If your pick-up time is at 8:00am, we recommend purchasing tickets for either at 12:00pm when visiting Pisa, and at 10:30am if you do not wish to stop in Pisa. Uffizzi Gallery : 6.50 Euros Open from Tuesday to Sunday : 8.15am - 6.50pm (Closed on Mondays and JAN1, MAY1, DEC25) Uffizi Tickets can be purchased at the following website: http://www.b-ticket.com/b-ticket/uffizi/venue.aspx Accademia: 6.50 Euros Open from Tuesday to Sunday: 8.15am - 6.50pm (Closed on Mondays and JAN1, MAY1, DEC25) Accademia Tickets can be purchased at the following website: http://www.b-ticket.com/b-ticket/uffizi/venueAccademia.aspx Leaning Tower of Pisa - Tickets MUST be pre-booked online at www.opapisa.it Leaning Tower Open from: 8:30am - 8:30pm (until June 13 and from Sept. 5 until Sept. 30) 8.30am - 11.00pm (from June 17) Cathedral: 10:00am - 8:00 pm Baptistery, Monumental Cemetery, Opera del Duomo Museum: 8:00am - 8:00pm Entrance allowed until 30 minutes before scheduled closing time.

Minibus/Bus City Taxes
Florence : 9 - 14 pax 300
Florence : 15 - 50 pax 450
Pisa : 9 - 14 pax 150
Pisa : 15 - 50 pax 200

Similar Tours at La-spezia