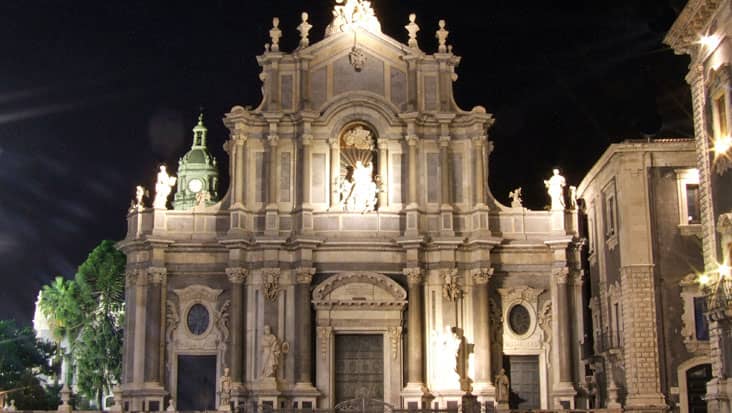 Duration 9 Hrs (Full Day)

Available Everyday of the year

FROM

575
Catania to Catania, Riviera Dei Ciclopi and Castelmola Shore Excursion: Visit Amazing Medieval Destinations that Consist Inspiring Structures in Rich Vehicles.
There are numerous cultural sites in Italy that are drenched in their own special magic. You would love the experience of Catania which is located close to Ionian Sea. It is the capital of Metropolitan City of Catania and is tagged among the top ten biggest cities of Italy. The area is quite fascinating since it possesses numerous marvels from the Renaissance period. You can start a journey from Catania to other exquisite regions that are equally interesting. Benvenuto offers Catania to Catania, Riviera Dei Ciclopi and Castelmola Shore Excursion that can be accessed in chauffeur driven vehicles. Our service is quit famous in Italy and is trusted by local as well as international travelers. This tour would be completed in nine hours making sure that all your needs are fulfilled. Tourists can buy this package on any day of the week.
Catania has a rich history that is connected to the ancient Greeks. You would be amazed after visiting the attractive churches which are present in this city. Cathedral of S. Agata and Piazza del Duomo are the popular landmarks in Catania. Tourists admire the alluring elephant fountain which has a classic designing. You drive would take you to the ancient village of Aci Castello. Tourists access this land for enjoying activities like swimming, snorkeling and sunning. You would get to examine Riviera dei Ciclopi which is a wonderful coastal decorated with huge rocks. The final stop in this journey is Castelmola which is a small medieval village. You can visit the old castle from where you can enjoy the superb view of the bay of Etna, Naxos and Taormina. For Catania to Castelmola, Catania and Riviera Dei Ciclopi Shore Excursion you can hire a guide. But remember that the charge is not included in the total tour cost.
Benvenuto chauffeur service offers Mercedes and VW cars for Catania to Riviera Dei Ciclopi, Castelmola and Catania Shore Excursion. We offer sedans, minivans and minibuses that are high on appearance and speed. The tour package cost varies depending on the car you select for travelling. Dining cost and entrance ticket to various sites is excluded from the trip expense.
Read more
Highlights
Piazza del Duomo

Cathedral of S. Agata

Aci Castello

Views of the bay of Naxos, Etna and Taormina.
Cost
1-2 Passengers (Sedan) 575
3-4 Passengers (Sedan/Minivan) 625
5-6 Passengers (Minivan) 675
7-8 Passengers (Minivan) 725
9-10 Passengers (Minibus) 1100
* Extra pax charged at 50 Euro per person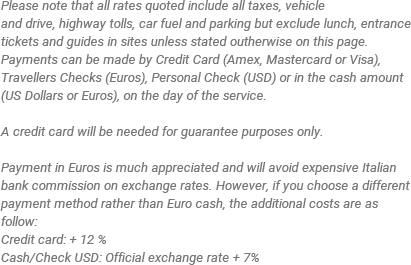 Notes
Comfortable walking shoes are suggested for this tour. Make sure your cameras are charged or load up on batteries! Available: Everyday of the year.

Minibus/Bus City Taxes

Similar Tours at Catania