Amalfi Coast Shore-Excursions
Duration 8 Hrs (Full Day)

Available Everyday of the year

FROM

400
We will start this tour from the port. We will first take you to Gargiulo Olive oil factory.
You will visit the olive grove, the old mill, the modern mill and you will be tasting extra-virgin olive oil and typical products.
Next, we will head to Michelangelo cheese factory where you will learn the whole process of cheese making. If you are interested, you can make your own mozzarella with the help of professional cheese makers. You will also visit their refrigerated room where they dry and season more than 1000 caciocavallos (very famous seasoned cheese). After the visit, you will have a chance to taste all kinds of cheese from fresh mozzarella and smoked mozzarella to seasoned and aged cheese, accompanied by a glass of local red wine. This tour takes about 1 hour.
There is also a possibility to do a limoncello tour which includes a visit to the limoncello factory, hand-made demonstration, final tasting of limoncello liquor, watermelon cream, lemon confetti and hand-made cookies. This tour takes about 30 minutes.
Finally, we will take you to Cantine del Vesuvio, at the foot of the volcano for a wine tasting and lunch.
You will be able to tour the winery where their Lacryma Christi DOC is produced and you will sit down for a wine tasting, paired with samples of local specialties from our little corner of paradise on Mount Vesuvius.
Tasting menu
• Antipasto appetizer with local products: salami, provolone cheese, "casatiello" (a savory bread), and bruschetta with heirloom Piennolo tomatoes on bread baked in a wood-burning oven, paired with Lacryma Christi del Vesuvio Bianco DOP (100% Caprettone), Rosato (100% Piedirosso), and Rosso (100% Piedirosso).
• Spaghetti made with durum wheat flour and tossed with a sauce made from heirloom Piennolo tomatoes and basil, paired with Lacryma Christi Riserva (80% Piedirosso and 20% Aglianico, aged in French oak barrels for 18 - 24 months).
• Pastiera Napolitana, a traditional dessert featuring sweetened ricotta, candied fruit, and boiled wheat berries, paired with Capafresca Spumante Rosato (100% Aglianico) and Acquavite di Albicocche del Vesuvio, our apricot distillate.
They can also accommodate vegetarians, vegans and people with celiac disease with a special menu. The price of the wine tasting is EUR 28 per person.
The visit will last about 2 hours and reservation is required.
Read more
Highlights
Breath-taking views of the Sorrentine Peninsula

Stops in Olive Oil Mill, Mozzarella Cheese Factory, Wine Tasting & possible extra stop at Limoncello Factory
Cost
1-2 Passengers (Sedan) 400
3-4 Passengers (Sedan/Minivan) 450
5-6 Passengers (Minivan) 500
7-8 Passengers (Minivan) 550
9-10 Passengers (Minibus) 850
* Extra pax charged at 50 Euro per person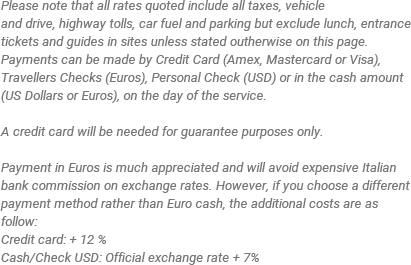 Notes
Comfortable walking shoes are suggested for this tour. Make sure your cameras are charged or load up on batteries!

Minibus/Bus City Taxes
Positano : 9 - 14 pax 160
Positano : 15 - 50 pax N/A

Entrance Fees and Times
Oil Oil Mill - Free entrance
Mozzarella Factory 28 Euro per person (NOT included in the rate)
Wine tasting, Winery visit and lunch 32 Euro per person (NOT included in the rate) or 40 Euro for a Superior wine selection
Optional stop at Limoncello Factory for visit and tasting 13 Euro per person
Similar Tours at Amalfi-coast