Amalfi Coast Shore-Excursions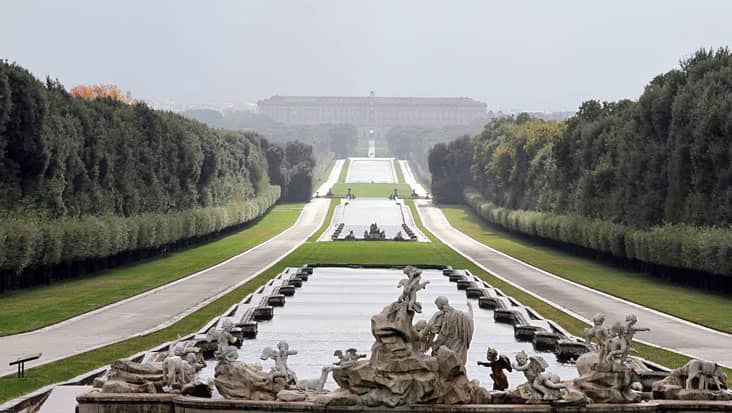 Duration 9 Hrs (Full Day)

Available Everyday of the year

FROM

500
Visit Wonderful Natural Sceneries & Architectural Monuments during Amalfi Coast to Caserta and Naples Shore Excursion Driven in Luxurious Mercedes Limousines.
Italy is a fabulous land which is known for its serene scenic locations. This country is rich in terms of natural, cultural and historical greatness. The area of Amalfi Coast is wrapped in the arms of nature. A large tourist crowd visits this area so as to admire the beautiful seafront locations. You can access a road trip from Amalfi Coast to other popular regions. Caserta is decorated with fountains and blooming gardens that can be reached by opting a lovely drive from Amalfi. Benvenuto chauffeur service provides Amalfi Coast to Caserta and Naples Shore Excursion managed in luxury sedans. This ride would keep you safe and relaxed that is one of the positive aspects of Benvenuto's trip packages. The travelers can hire this tour on all days of the week.
The Amalfi Coast to Naples and Caserta Shore Excursion should be travelled during the day time. Caserta consists of impressive monuments from the 18th century. The Royal Palace is one of the prime landmarks that are visited by tourists. You would love the gilded frescoes, attractive tapestries and chandeliers that are present in this palace. One can also view the waterfall that is located close to the palace. Naples is one of the top metropolitan cities of Italy. You would surely get to examine the heritage sites that are present in Naples. Medieval architecture is the strongest aspect that makes this area so majestic. The cathedral of San Gennaro and the churches of Ges Nuovo and San Lorenzo would be covered during the ride. Our talented chauffeur would help you reach all the important destinations. The driver hired from our service can interact in English that is excellent when dealing with international travelers. You can gain useful details from the driver regarding different highlights which is a good service trait. We make sure that our customers are guided to quality eateries for dining peacefully. There is an entrance fee for visiting various destinations during this ride. This cost needs to be paid differently by the travelers.
You can access luxury cars that are quite classy and elegant. We possess Mercedes E-Class and S-Class sedans that can hold up to three travelers. The best part is that, you can even check out Mercedes V-Class and VW Caravelle minivans which are supremely spacious. The tour cost mainly depends on the vehicle you opt for this journey.
Read more
Highlights
Caserta

enchanting Royal Palace

pizza Margherita

the museum of National Archaeology and the museum Capodimonte
Cost
1-2 Passengers (Sedan) 500
3-4 Passengers (Sedan/Minivan) 550
5-6 Passengers (Minivan) 600
7-8 Passengers (Minivan) 650
9-10 Passengers (Minibus) 950
* Extra pax charged at 50 Euro per person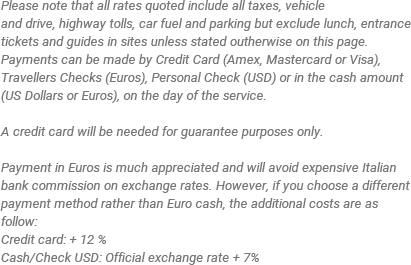 Notes
Comfortable walking shoes are suggested for this tour. Closed on Tuesdays Archeological Museum: 6.50 Euros Closed on Tuesdays Available: Everyday of the year

Minibus/Bus City Taxes

Entrance Fees and Times
Royal Palace of Caserta: 9 Euros
Open 8:30am - 4pm Closed on Tuesdays

Royal Park: 3.00 Euros
Open 9am - 5pm Closed on Tuesdays

Archeological Museum: 14 Euros
Closed on Tuesdays
Similar Tours at Amalfi-coast