Amalfi Coast Shore-Excursions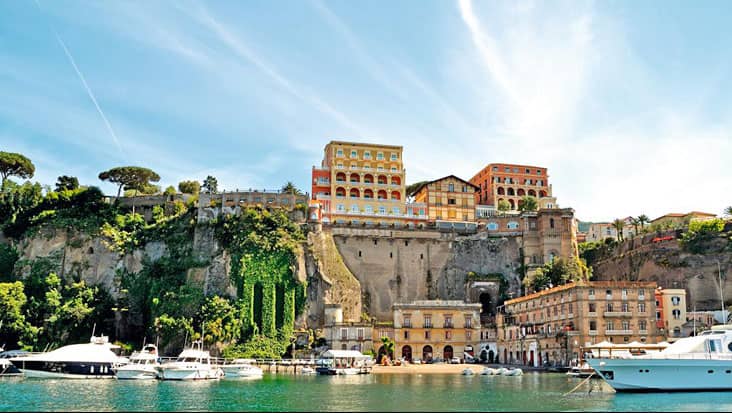 Duration 9 Hrs (Full Day)

Available Everyday of the year

FROM

450
Hire a Chauffeured Limousine for Visiting Marvelous Historical & Coastal Locations during Amalfi Coast to Sorrento, Pompeii and Herculaneum Shore Excursion.
The perfect way to cover different landscapes in Italy is through accessing a road trip. Amalfi Coast is a wonderful location that is full of beautiful seafront locations. One can access a tour from the Amalfi Coast to different regions in luxury vehicles. Benvenuto chauffeur service makes sure that you travel in supreme comfort. Amalfi Coast to Sorrento, Pompeii and Herculaneum Shore Excursion is a unique experience that will help you explore numerous colors of Italy. The ride would be informative, as the driver would impart useful details related to all the major highlights. This tour will be completed in nine hours wrapped in comfort & relaxation.
For Amalfi Coast to Pompeii, Sorrento and Herculaneum Shore Excursion you must wear comfortable shoes. Sorrento is a popular international town that is visited by a large number of tourists from all parts of the world. You will get to observe the Bay of Naples along with the Island of Capri which is quite scenic. Do not miss a chance to savor the quality Neapolitan Pizza when visiting Sorrento. Pompeii and Herculaneum were active areas under the Roman Empire. But in 79 AD both these areas were destroyed due to a volcanic eruption. Tourists visit Pompeii and Herculaneum for checking out various archaeological sites. The Amphitheater of Pompeii and Temple of Isis are the popular landmarks in Pompeii. Herculaneum also consist of important excavations that offer traces of Greek existence during the Roman era. Our chauffeurs are well aware of the famous sites and routes. The English-speaking chauffeur can easily converse with international tourists and is a good service trait. Entrance tickets, dining cost and guide hiring charge are excluded values. The tourists have to pay this amount separately.
For Amalfi Coast to Herculaneum, Sorrento and Pompeii Shore Excursion you can select a ride as per your convenience. We own Mercedes and VW vehicles that are loaded with excellent facilities. GPS systems are installed in these cars that assist in quick navigation. A minivan can also be selected which can accommodate up to eight passengers. Fuel cost, highway tolls etc. is part of the total trip cost.
Read more
Highlights
The international town of Sorrento

The ruins of Pompeii

Archeological excavations

Herculaneum, an ancient residential town of Greek origins
Cost
1-2 Passengers (Sedan) 450
3-4 Passengers (Sedan/Minivan) 500
5-6 Passengers (Minivan) 550
7-8 Passengers (Minivan) 600
9-10 Passengers (Minibus) 900
* Extra pax charged at 50 Euro person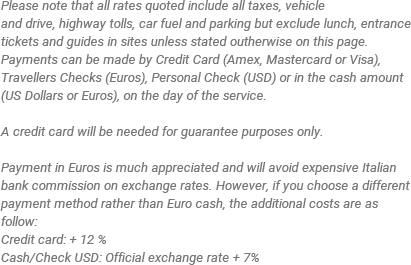 Notes
Comfortable walking shoes Please note that this tour is for people staying in the towns of the Amalfi Coast only or starting from the port of Amalfi/Positano. If you are coming in on a cruise ship please see our Shore Excursion page.

Minibus/Bus City Taxes
Pompeii : 9 - 14 pax 100
Pompeii : 15 - 50 pax 125

Similar Tours at Amalfi-coast